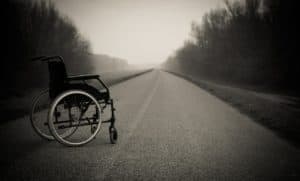 Like many others, the Social Security Administration (SSA) has embraced technology allowing real-time face-to-face communication from distant locations, including the use of video-conferencing for Social Security Disability claim hearings.
The SSA held 171,475 video hearings in fiscal year 2014, representing 28 percent of total hearings held, and has set goals of conducting 30 percent of its hearings by video in 2015 and of "moderniz[ing] the telecommunications infrastructure to include improved external and internal communications capabilities, such as Internet chat and video."
A hearing before an Administrative Law Judge is the third step in the appeals process of applying for Social Security Disability benefits. At a hearing, you may present evidence and testify in support of your claim. Other witnesses may also testify, and you or your representative may question witnesses.
With technology currently available, a hearing held by video can be much like (or better than) a Skype, Tango, FaceTime or other video phone call.
The SSA is promoting video hearings. Its pamphlet titled "Why You Should Have Your Hearing By Video Teleconference" claims a video hearing may be scheduled faster and happen sooner than a face-to-face meeting. Also, conducting the hearing remotely may be more convenient for you if you do not live near a hearing office, the agency says.
But whether your hearing will be held in person or via video depends on several factors, including whether you object to holding your hearing by video within the time prescribed by the SSA.
A video hearing is set up so that you'll be able to see and hear the judge and he or she will be able to see, hear and talk to you. All parties will be seen and heard, even if they join the video hearing from multiple sites.
Transmission of the video hearing is secure, and your privacy is protected. Although the video is not recorded, the audio is, just as at in-person hearings.
The only real difference is that you are not in the room together, which may be a plus if you would be more comfortable not seated before a judge.
On the other hand, for some cases of disability, it may be helpful for the judge to meet you in person to better understand your plight.
It is possible that in the future most SSA hearings will be conducted remotely, as technology gets better and the need to rein in costs increases.
The SSDI lawyers of Marks & Harrison can help you consider your options for appealing your SSDI claim denial and whether a video hearing or an in-person hearing is better for you. If you have any questions about the hearing or any aspect of your SSDI claim, please do not hesitate to contact us.