A Safety Guide For New Teen Drivers In Virginia E-Book
Download a free copy of our eBook, "A Safety Guide
For New Teen Drivers in Virginia" by filling out the form below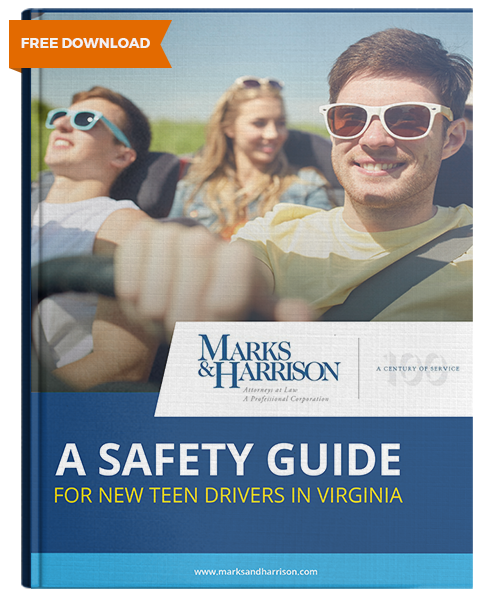 YOUR COPY IS AVAILABLE NOW.
Teen Driving E-Book Summary

When teenagers get their driver's licenses, a new world opens for them. They gain a sense of freedom and independence that they have never known before. They no longer need to call their parents for rides. Instead, they can drive to work, school or the mall on their own. It's an exciting privilege.
However, it is important for teens to know that the privilege of driving in Virginia carries with it a great deal of responsibility. Teens must obey the restrictions that apply to their license until they gain full driving privileges, and they need to follow all rules of the road. Additionally, they need to avoid dangerous driving practices such as going too fast for conditions, talking on a phone and driving after they have consumed any amount of alcohol.
Our team Marks & Harrison wants teens to be the safest drivers possible. That is why we have prepared our Teen Driving Guide. We hope it helps new teen drivers – and their parents – to navigate the many challenges that lie ahead, from going through the process of getting a driver's license to dealing with the costs of auto insurance.
The Guide features the following chapters:
I. How to Get Your Driver's License in Virginia
II. Seven Safe Driving Practices You Should Always Follow
III. What You Should Know About Distracted Driving
IV. Alcohol, Drugs and Driving Are a Deadly Combination
V. What You Should Know About Auto Insurance
VI. What To Do After an Auto Accident
VII. Take Our Safe Driving Pledge
We wrote our Teen Driving Guide to speak directly to teens. However,
we believe it contains information and advice that will be helpful to parents as well. We encourage teens and parents to review the guide together and to discuss the topics which we address such as distracted driving, impaired driving and dealing with the aftermath of an auto accident. At Marks & Harrison, we believe that open and honest dialogue about driving between teen drivers and their parents is crucial for safety as they move forward.
Additionally, we hope that teens and their parents will read and sign our Safe Driving Pledge at the conclusion of the guide. By signing the pledge, teens and their parents can literally get "on the same page" when it comes to understanding the rights and responsibilities of driving.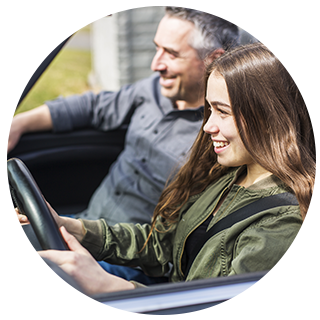 Here's A Preview Of What You Will Be Getting From This Ebook
Click on the images to enlarge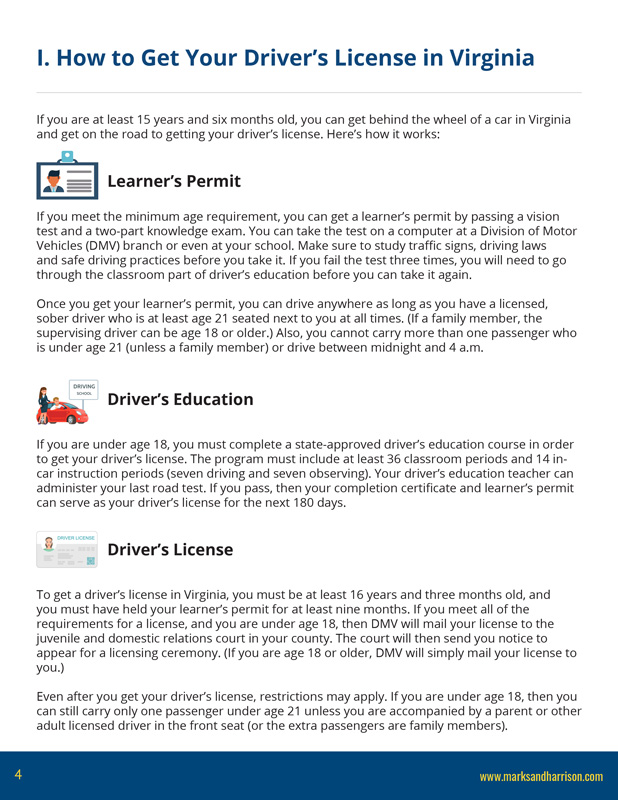 MARKS & HARRISON | COPYRIGHT © 2019 | ALL RIGHTS RESERVED.