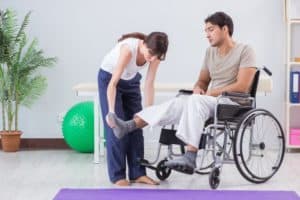 People who have experienced a traumatic event in combat, a car accident, an assault or another life-threatening event may develop the mental condition known as post-traumatic stress disorder (PTSD). It can be debilitating.
People with PTSD may experience feelings of despair, anxiety and hopelessness. They may also suffer from physical symptoms. Due to PTSD, a person may be unable to work, develop or maintain relationships and enjoy the things in life that they once enjoyed doing.
However, if a doctor has diagnosed you with PTSD, or if suspect that you might have the condition, you may qualify for Social Security Disability (SSD) benefits, Veterans Administration (VA) benefits or both. The experienced disability benefits attorneys at Marks & Harrison have helped clients with PTSD throughout Virginia to obtain the disability benefits that they deserve.
Here, we provide you with more information about PTSD and how the disability benefits process works for people with this condition.
What is Post-Traumatic Stress Disorder?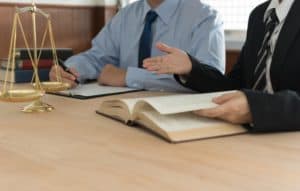 PTSD can completely alter the way you experience your daily life. The National Institute of Mental Health describes PTSD as a disorder that triggers the body's "flight-or-flight" response and other natural reactions to shocking events. These reactions linger. So, even when a person with PTSD is safe from immediate danger, the person continues to experience feelings of being in danger.
The constant feeling of worry present in PTSD sufferers may cause avoidance behaviors, constant anxiety, feelings of anger and insomnia. Eventually, these symptoms can take a serious physical toll. For instance, a person who lacks sleep due to nightmares or loses weight due to loss of appetite may eventually be unable to muster the energy to work and accomplish basic tasks.
Many military veterans who have survived traumatic combat events develop PTSD. However, anyone can experience PTSD after exposure to trauma. The National Center for PTSD reports that approximately 7-8 percent of the country's population suffers from PTSD, including people from non-military backgrounds.
If you experience any signs of PTSD after a traumatic event such as a car accident, you should seek help from a medical professional as early as possible and learn about the best treatment options available for your situation. Those options may range from group counseling to medication.
Other problems such as depression and substance abuse may accompany PTSD. So, any delay in getting help could be extremely harmful. You also should seek help from an experienced lawyer who can help you to explore your disability benefits options.
Our lawyers will guide you through the process of securing SSD benefits, VA benefits or both.
Call Our Attorneys Now

SSD Benefits for People with PTSD
You do not have to deal with PTSD on your own. In fact, many people with PTSD may qualify for disability benefits from the Social Security Administration (SSA).  The SSA defines a qualifying "disability" as the existence of a serious "physical or mental impairment" which lasts at least 12 months, prevents a person from engaging in "substantial gainful activity," or employment, and which can potentially lead to death.
If you meet the SSA's definition of a disability, you may be eligible to participate in different kinds of disability programs. For instance, the Social Security Disability Insurance (SSDI) program provides disabled individuals with certain benefits based on the number of work credits a person earned at the time they became disabled. However, even if you do not meet the work credit requirements for SSDI benefits, you may still be eligible for benefits through the Supplemental Security Income (SS) program (SSI).
To establish your eligibility for benefits, you must provide the SSA with documentation such as medical records and a residual functional capacity (RFC) assessment by your treatment doctor. You may also need to undergo a consultative examination by an independent, non-treating doctor.
Whether you are in the process of applying for disability benefits or appealing a denied claim, a lawyer from Marks & Harrison can help you to collect and present this information to the SSA and pursue the benefits that you deserve.
VA Disability Benefits for Veterans With PTSD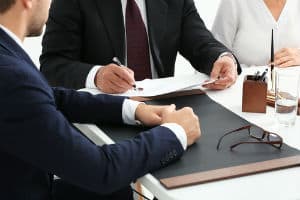 Veterans that have been diagnosed with PTSD may be entitled to VA disability benefits. Often, veterans experience intensely stressful situations during combat or training which could make PTSD more likely to occur. Indeed, military leaders have observed PTSD symptoms among soldiers for centuries, which led the VA to establish the National Center for PTSD in 1989. Today, the VA offers several types of compensation for veterans and their loved ones.
As with SSD benefits, you must provide evidence to establish that you qualify for VA assistance, including:
Medical evidence of your current Injury or disability
Evidence of the relationship between your disability and your military service
Military discharge or separation documentation.
If the VA denies your claim for disability benefits, or if you disagree with any aspect of the VA's decision on your claim, you should seek help as soon as possible from Marks & Harrison. We can put our extensive experience with handling VA disability benefits appeals to work for you right away.
Our Virginia Disability Benefits Lawyers Can Help You
Pursuing the disability benefits that you need does not have to be hard or stressful.  If you suffer from PTSD, Marks & Harrison will skillfully guide you through the process of securing SSD benefits, VA benefits or both.  We will listen to you and understand your goals, and we will work hard to achieve those goals for you. Our firm can serve you from our offices in Richmond and throughout Virginia. Contact us now for a free consultation.