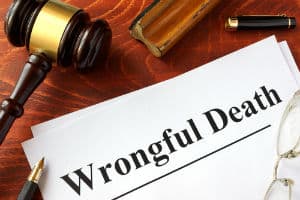 It is hard to imagine losing a loved one. But for many people in Virginia, accidents that leave them without family members are a reality. Death from unnatural causes such as in a car accident can change surviving family members' lives forever.
While filing a lawsuit may be the last thing on your mind after you lose someone dear to you, filing a wrongful death lawsuit in Virginia may be the only way that you can recover the financial support your family needs as you move forward in life.
Here, we examine the elements and damages that can be pursued in a wrongful death claim. We also look at who can bring a wrongful death lawsuit and what time limits apply to these claims.
The Elements of a Wrongful Death Claim
A wrongful death claim can be filed if the deceased person would have been able to file a personal injury claim against the defendant had death not resulted. As such, the elements of a wrongful death claim are essentially the same elements that must be established in a personal injury claim:
Existence of duty of care (owed by the defendant to the deceased)
Breach of the duty of care, or negligence
Causation
Damages.
In nearly all circumstances, there is an existence of a duty of care between a defendant and a plaintiff.
However, the second element – a breach of that duty –can be more difficult to establish. Establishing this element requires proving that the defendant failed to act with a reasonable degree of care or violated a statute such as driving while impaired by alcohol or drugs or driving while distracted by talking or texting on a cell phone.
The third element can also be challenging to establish. It requires that you prove that the accident (and death of the decedent) would not have occurred but for the defendant's negligence.
The defendant may argue that, while he or she did act negligently, the death would have occurred regardless of this negligence and, thus, the defendant should not be held liable.
Damages Available for a Wrongful Death Claim
A plaintiff may seek compensation for both economic and non-economic damages in a wrongful death claim in Virginia. Those damages include:
Mental anguish – While a personal injury case allows the injured party to seek compensation for his or her own mental anguish, pain and suffering, a wrongful death lawsuit does not allow for plaintiffs to seek compensation for the value of the decedent's pain and suffering. However, compensation for beneficiaries' own mental anguish may be pursued. You can read more about this in Wrongful Death Damages in Virginia, which was published by the William & Mary Law Review.
Loss of companionship, guidance and solace – As the plaintiff in a wrongful death lawsuit, you have the right to seek recovery for another type of non-economic damage: The value of the loss of your loved one's companionship, guidance, society and solace.
Medical bills – If your loved one incurred any medical expenses related to the fatal injury prior to death, compensation for the full value of these expenses is recoverable.
Funeral and burial expenses – The costs of a funeral or burial service can be very expensive. Worries about the costs of having a funeral or service that honors your loved one's life should be the furthest thing from your mind. If you can prove the elements above, you should be able to recover the full cost of funeral and burial expenses.
Lost financial support – Often, the person who dies due to the negligence of another is a member of the family who makes a significant financial contribution through his or her work and wages. If you have lost a wage earner, you can seek compensation for the value of these lost wages, as well as the value of any future benefits or opportunities that your loved one likely would have received and contributed to the family.
Punitive damages – These damages are meant to punish the defendant. They may also be available if you can establish by convincing evidence that that the defendant acted with actual malice or "conscious, reckless and outrageous indifference to the health, safety and welfare of others."
Rules for Filing a Wrongful Death Claim
The rules for filing a wrongful death claim differ from those for filing a personal injury claim. For example, the only parties who can bring a wrongful death claim in Virginia are statutory beneficiaries, or those who would be entitled to the deceased's estate per intestacy laws such as the spouse, children or parents of the deceased.
Another rule applies to the time limit that a plaintiff has for bringing forth a suit, or the statute of limitations. In Virginia, the statute of limitations in a wrongful death claim is two years from the date of death.
Working with a Virginia Wrongful Death Attorney
At Marks & Harrison, we realize the pain you are going through after the loss of a loved one. We are not under the impression that filing a lawsuit and pursuing compensation will replace your loss or fill the hole that has been left in your life.
However, we do believe that holding negligent parties accountable when their actions cause death is important. We also believe that financial support can be beneficial for you and your family members as you move ahead in life.
Our law firm will do everything we can to seek just compensation for you. From investigating your claim to negotiating for damages, we can handle the entire process from start to finish. To learn more about what we can do for you during this hard time, please contact our Richmond wrongful death lawyer today. A consultation with our team is free, confidential and without any obligations.