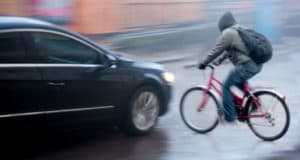 Summer is here. It is the perfect time to ride your bicycle around town, at the beach or on the trail. Fortunately, Virginia is a fairly safe place to ride. In its 2015 rankings, The League of American Bicyclists rated Virginia as the No. 13 most "bicyclist friendly" state in the country, taking into account legislation, enforcement of bike laws and other factors.
Despite this favorable ranking, bicycle accidents still occur in our state. Using statistics from the National Highway Traffic Safety Administration), Governing.com reports that an average of 10 bike riders die each year in Virginia.
If you are hit by a car while biking, you will find it to be a confusing and disorienting experience. You may not know what you should do or who you should call first.
The reality is that any serious injuries you may suffer such as traumatic brain injury (TBI) can grow worse if you fail to take immediate steps. Your ability to recover compensation can also be negatively impacted if you do not take appropriate action following the crash.
We present the following to help you avoid making critical mistakes.
Protect Yourself Before You Hit the Road
Before we discuss what you should do after an accident, we want to focus on preventing bicycling accidents and reducing the likelihood of serious injuries.
It begins before you set out on your bicycling trip. You should always wear a proper-fitting helmet when you ride. You should wear the helmet regardless of the distance you expect to travel.
Wearing a helmet can dramatically reduce a bicyclist's risk of suffering traumatic brain injury as well as spine and neck injuries in an accident.
Other protective equipment that you should wear includes:
Eye protection
Highly visible or reflective clothing
Biking shorts or pants with ankle clips.
Shoes with long laces and baggy pants should be avoided as they can become entangled in the chain and/or gears.
You should also visually inspect your bicycle before leaving home. Make sure that the gears and chain appear to be in good repair and that there is no visible damage to the tires or brakes. If the bike shows signs of wear or tear, do not ride the bicycle.
Seek Medical Attention Soon After a Bicycle Accident
One of the first steps you should take following a Virginia bicycle accident is to be evaluated by a medical professional and get appropriate treatment.
Bicyclists involved in a crash are at an increased risk of suffering serious injuries like TBI, spine and neck injuries. Sometimes, the severity of these injuries can depend on how quickly they are treated.
You should summon emergency medical help to your location. Call 911. Allow the EMTs to evaluate you and, if necessary, take you to the hospital.
Even if you believe you have not been seriously injured, you should still visit your family doctor or another qualified medical provider as soon as possible. This will ensure that any internal injuries (or injuries that are not presently manifesting symptoms) get timely detected and treated.
Another important reason to get immediate medical attention: If your injuries are not diagnosed shortly after your accident, an insurance company may try to deny your claim by asserting that your injuries were not caused by the accident.
Identify Witnesses and Gather Evidence
If you are physically able to do so, you should get the names and contact information of any witnesses at the scene.
This is especially important to do if you are involved in a "hit-and-run" accident in which the driver of the vehicle leaves the scene of the crash without rendering aid or providing his or her name and insurance information. Witnesses may help you to identify the responsible party. At the very least, a witness can attest to the fact that you were, indeed, hit by a motorist and did not suffer injuries due to your own fault.
At the same time, you should attempt to collect evidence at the scene of the crash. You can do this by using your smartphone camera or a portable digital camera if you have one. Take photographs of your injuries, the car and driver involved in the crash, any road signs or road markings and road obstructions.
Keep copies of these photographs in a safe place. You should give copies to your attorney and/or family members for safekeeping.
Speak with an Experienced Attorney in Virginia
As soon as you have obtained any necessary medical treatment and the accident scene has been cleared, you should speak with an experienced bicycle accident attorney to learn more about your right to seek compensation.
You will have only a limited amount of time to file a claim for compensation after a bicycle accident. Once this time period expires, you may not be able to seek compensation.
The sooner you hire a lawyer, the more quickly your attorney can complete his or her investigation and begin the process of pursuing compensation for you.
Because your ability to recover compensation in a bicycle accident lawsuit is dependent on establishing that another person was at fault in causing the crash, and your own carelessness or negligence did not play a role in causing the accident or contributing to your injuries, your attorney must be capable of investigating your bicycle accident case with these considerations in mind.
A bicycle accident attorney should be knowledgeable about Virginia laws as well as the "rules of the road" which apply to bicyclists.
You can go to the Virginia Department of Transportation website to learn more about these rules,  which cover where bicyclists are permitted to ride, how they are to pass other traffic (and how motor vehicles are supposed to pass them) and how they are to signal changes in direction.
Contact Our Virginia Bicycle Accident Attorneys
If you are involved in a bicycle accident in Virginia, the experienced and knowledgeable attorneys at Marks & Harrison are here to help. We will investigate your bicycle accident case efficiently so that you understand your legal rights and how to exercise them. Contact our firm by phone or online today for assistance with your case.