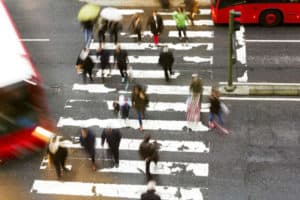 Unfortunately, pedestrian accidents frequently occur in Richmond and throughout Virginia. The Virginia Highway Safety Office (VHSO) reports that 1,718 pedestrians suffered injuries in collisions with motor vehicles in Virginia in 2015 alone, while 78 pedestrians died from their injuries.
At Marks & Harrison, our Richmond pedestrian accident lawyers have the skills and experience you need to seek full and fair compensation for your losses if you or a loved one suffered injuries after being hit by a car while walking.
Here, we provide helpful information about pedestrian accidents, including steps you should take if you or family member recently were involved in one.
Why Do Pedestrian Accidents Occur?
Pedestrian accidents can occur for a wide variety of reasons. However, certain situations present an increased risk for pedestrians. For instance, most pedestrian-motor vehicle collisions occur when a pedestrian crosses at an intersection or walks along the road due to the lack of a sidewalk.
It is also notable that males suffer the majority of Virginia pedestrian injuries (60 percent of victims), and these accidents frequently happen at night. In fact, nearly half of all pedestrian accidents (47.5 percent) occur near or during sunrise or sunset.
You should note two other facts:
95 percent of vehicles involved in pedestrians accidents have no defects
90 percent of pedestrian collisions occur during ideal weather conditions.
In other words, driver error serves as the cause of the overwhelming majority of pedestrian collisions. Drivers must do a better job at keeping a lookout for pedestrians who share the streets with them.
Pedestrian Safety 101: Four Tips to Avoid Accidents
As a pedestrian, you need to watch out for your own safety. Sadly, far too many people drive unsafely and put everyone else at risk. If you are walking or jogging in Richmond or in any of the surrounding communities, please always keep the following four pedestrian safety tips in mind:
Use sidewalks. If there is a sidewalk available, you should always use it. If a sidewalk is only on one side of the road – which is common in many Virginia communities – you should safely cross the street and use it even if it means that you need to go a little bit out of your way. If no sidewalks are present, always walk in the direction facing oncoming traffic.
Wait for the crosswalk. Whenever possible, cross the street inside a designated crossing area. Wait for the light and be extremely careful when you are in the road.
Be visible to the driver. A car will only stop for you if the driver can actually see you. As a pedestrian, you should always make an effort to be visible. If you walk at night, wear reflective clothing. You want to do whatever you can to make yourself known. When crossing the street, it is a good practice to try to make eye contact with the oncoming driver.
Eliminate distractions. Many people walk around with their headphones in and their eyes glued to their smartphone. However, for safety purposes, you should reduce distractions as much as possible and always pay attention to your surroundings.
Common Pedestrian Injuries
When they face an oncoming car, pedestrians have little means to escape and virtually no protection. As a result, accidents often lead to incredibly serious injuries. Even if a collision occurs at a relatively low speed, devastating injuries are still possible. Some of the most common types of injuries that we see in pedestrian accidents include:
Severe bruising
Deep lacerations
Broken and fractured bones
Torn ligaments
Internal injuries, including bleeding and organ damages
Facial injuries, including dental injuries
Spinal cord damage (including paralysis)
Severe psychological trauma
Steps to Take If You are Hit By a Car in Virginia
If you get hit by a car while walking in Richmond or elsewhere in Virginia, make sure to take the following steps:
Get to safety. First and foremost, you need to protect your health and safety. If you have been struck by a vehicle, this means that you need to get yourself out of the road and away from traffic. Depending on the severity of your injuries, you may require immediate emergency medical assistance.
Call the police. Even if you think that your injuries are relatively minor, you need to contact the local police. Your adrenaline may be pumping after a collision, and it may mask the pain. You could be far more injured than you realize. A police officer should come to the scene of your crash and prepare an official accident report. Further, you should make a statement to the officer, ensuring that your side of the story is included in the report.
Exchange information with the driver. You also need to get information from the responsible driver. You should be sure to get enough information to identify the driver and his or her vehicle. Please try to obtain the driver's:

Name
Phone number
Address
Driver's license number
License plate number
Vehicle make and model.

Further, you should also seek contact information from any witnesses.

Take photographs. You can never have too many photographs of the scene of an accident. If you do not have a cell phone on you to take pictures, try to get one from someone else near the scene of the crash. These pictures may prove to be very important for any future personal injury claim.
Get medical attention. Even if you do not require emergency medical assistance, you still need to get a medical evaluation after a pedestrian accident. This is important for several reasons, not the least of which is your health. You will also need supporting medical documentation for any accident claim that you pursue.
Contact an attorney. If you suffered serious injuries, you should contact an experienced attorney to review your case. At Marks & Harrison, our Richmond pedestrian injury lawyers can provide a free, no-obligation review of your claim. Contact our firm today to schedule your initial legal consultation at our Richmond office or any of our eight other offices located throughout Virginia.