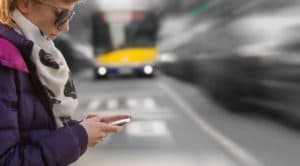 Contrary to popular belief, pedestrians do not always have the right of way. In some collisions with pedestrians, the driver may not be at fault. Pedestrians can act negligently and bear responsibility for accidents, too.
If you are a pedestrian who recently was involved in an accident, you should know how a driver's insurance company will likely approach your claim. The insurance company will look to see whether you had the right of way and whether you may have contributed to your injuries, which could result in a denial of your claim. On the other hand, if you are a driver who was injured after a collision with a pedestrian, you should know that you may be the one who is actually entitled to recover damages – not the pedestrian. It will all depend on the facts.
The injury attorneys at Marks and Harrison are proud to carry on a legacy of serving Virginia residents for more than 100 years. Our team is here to support you, answer your questions and represent you if you were recently injured in a pedestrian accident. Get in touch with us today to discuss your case in a free consultation.
What Traffic Laws Apply to Pedestrians in Virginia?
Virginia law has several statutes that establish how and when pedestrians may cross streets and otherwise have the right of way. These laws are critical for the safety of both pedestrians and motorists. Some of the most important laws regarding pedestrians include:
How and where to cross highways (Va. Code § 46.2-923) – Pedestrians should cross only at intersections and marked crosswalks or as otherwise guided by traffic control devices or law enforcement officers.
When drivers are required to yield to pedestrians (Va. Code § 46.2-924) – Drivers must yield to pedestrians when they cross at intersections and crosswalks, where speed limits are under 35 miles per hour, under traffic control devices, when they turn and when directed by a law enforcement officer. At no time should a pedestrian cross roads or intersections in disregard of approaching traffic.
Stepping onto highways (Va. Code § 46.2-926) – No pedestrian can step into a highway between intersections if the pedestrian's presence is obscured from the vision of drivers.
Pedestrians should not use the roadway (Va. Code § 46.2-928) – Pedestrians should not use roads for walking except when areas do not have sidewalks. If they must use roadways, they should stay to the left.
All of these are examples of Virginia traffic laws that address pedestrians. In all cases, pedestrians must obey the rules of the road. When pedestrians or drivers disobey those rules, avoidable accidents can occur that result in a traumatic situation for all parties involved.
How Can Pedestrians Cause Accidents?
Pedestrians can be responsible for accidents in a number of different ways and ultimately cause serious and even catastrophic injuries. Most commonly, pedestrians cause accidents when:
Walking while distracted – Pedestrians often pay more attention to a mobile device or a telephone conversation than they do their surroundings. A distracted pedestrian may fail to see that he or she is crossing an intersection into traffic.
Jaywalking – Pedestrians frequently cross streets in a location other than an intersection or crosswalk, or they cross an intersection diagonally.
Crossing with an obstructed view – Pedestrians should be mindful of whether approaching drivers can see them. A sign, tree, building, hedge or something else may prevent a driver from seeing a pedestrian enter the road.
Impaired walking – A pedestrian under the influence of alcohol, illegal drugs or prescription medication may lack the physical or mental capacity to properly observe traffic laws which are in place for their safety.
Walking in restricted areas – Some areas – like interstates – are simply off limits to pedestrians. This is for a good reason – they are a dangerous.
When pedestrians fail to observe the traffic laws that are in place for their safety, they can cause accidents and hurt themselves or others. A pedestrian who causes an accident may not only be barred from seeking compensation under Virginia's contributory negligence law. The pedestrian may also be liable for any harm that a driver suffers. For instance, a driver may be forced to swerve in order to avoid hitting a pedestrian and, in turn, hit another car or object such as a tree, sign or guardrail.
How Do You Determine Fault in a Pedestrian Accident?
You can look at many different pieces of evidence in order to determine fault in a pedestrian accident. In most cases, you will find the primary evidence at the scene of the accident. This evidence may include:
Vehicle damage
Skid marks (or lack of marks)
Traffic controls (signs or signals)
Potential obstructions (tree, sign, hedge or building)
Road and weather conditions.
Additionally, in an investigation of the accident, an attorney will want to collect and review evidence such as:
Statements from the driver, pedestrian and witnesses
Driver and pedestrian cell phone records
Chemical test results for the driver and pedestrian
The police report
Black box data
Surveillance camera footage.
In some cases, an attorney may turn to an expert in accident reconstruction. This expert can review the evidence and determine how the accident happened and who was responsible for it – the driver, pedestrian or both. These experts often compile the information in a report and/or testify at trial.
Why Is a Pedestrian's Fault an Important Factor?
In some cases, a pedestrian may be found to be partially or wholly at-fault for an accident. If this occurs, a pedestrian may be unable to recover any compensation for his or her injuries after a collision with a motor vehicle. This is why it is particularly important to determine whether a pedestrian may have contributed to an accident.
Virginia follows the rule of "pure contributory negligence." This is a truly all-or-nothing kind of rule. So, if a pedestrian is found to be even one percent responsible for an accident, the pedestrian may be unable to recover any compensation for medical expenses, lost income, pain, suffering and other damages.
At Marks & Harrison, we know how insurance companies operate. They frequently try to shift fault to "the other side." If you were hurt in an accident – whether as a pedestrian or as a driver – we will fight any attempts to put undue blame on you. That is why we promptly and thoroughly investigate the cases we handle. We let the facts speak for themselves.
Get Help from our Virginia Pedestrian Accident Attorneys Today
At Marks & Harrison, our Virginia pedestrian accident attorneys are ready to sit down with you and listen to your side of the story after an accident. We want to make sure that your voice is heard. To learn more about how we can help you to pursue just compensation, contact us today. We can serve you from offices in Richmond and nine other offices located throughout Virginia. Our initial consultations are always free and confidential.