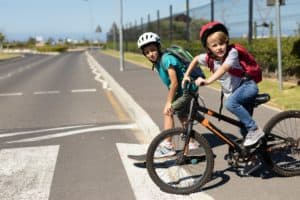 Under Virginia law, pedestrians must use crosswalks when they are available, and motorists must yield to pedestrians in any marked or unmarked crosswalk. Due to this law, many people think that pedestrians always have the right-of-way, and when a driver hits someone on foot, the motorist is always to blame. However, that is not true. Virginia law also prohibits pedestrians from dangerously interfering with traffic and from taking certain actions such as darting out in front of vehicles.
If you were recently injured in a pedestrian accident, you should seek help from a lawyer who will help you to understand your rights and options. At Marks & Harrison, we can put more than a century of experience on your side. To learn more, contact us today and receive a free consultation through any one of our 10 offices located throughout Virginia.
Who Is Considered to be a 'Pedestrian' in Virginia?
In Virginia, any person on foot is considered to be a "pedestrian." However, several other individuals could also fit into this category. For instance, a person getting around on a skateboard, roller skates or even a Bird electric scooter could be a pedestrian. Even though bicyclists use a bike to get around the state, they can also be considered to be pedestrians. However, generally speaking, they must yield to individuals that are on foot. Essentially, anyone that is not using a motor vehicle such as a car, truck or motorcycle is a pedestrian.
When Do Pedestrians Have the Right of Way?
Pedestrians have the right of way in Virginia in many different situations. Under Va. Code § 46.2-924, drivers must yield to any pedestrian that is crossing a public street or highway at any:
Clearly marked crosswalk, regardless of whether the crosswalk is located at the end of the block or in the middle of the block
Regular pedestrian crossing that is included in the extension of the lateral boundary lines of an adjacent sidewalk at the end of a block
Intersection when the driver approaches on a street or highway where the speed limit is under 35 mph
Additionally, if a law enforcement officer or traffic control device directs a motor vehicle driver to yield to a pedestrian, the driver must obey the officer or device. If a driver enters, crosses or turns at an intersection where a pedestrian is crossing, the driver must stop, slow down or change course in order to allow the pedestrian to finish crossing in a safe and expeditious manner.
Pedestrians also have the right-of-way on sidewalks. When a sidewalk is present, the pedestrian must use it. If there is no sidewalk, the pedestrian must stay to the far-left side of the road.
When Do Motorists Have the Right of Way?
Although Virginia affords pedestrians many rights, motorists also have rights. Drivers have the right to operate their vehicle in moving traffic without interference from pedestrians. This means that pedestrians cannot run out into the road when vehicles are approaching or dart out directly in front of any vehicle.
When no crosswalk is available – whether marked or unmarked – pedestrians in Virginia are allowed to cross the road. However, they must yield the right-of-way to motorists. This means that if vehicles are approaching, pedestrians must wait on the sidewalk or at the curb and allow vehicles to pass before attempting to cross the road. In these situations, the pedestrian must also not step into a road when there is moving traffic if their presence is obscured by other vehicles or objects. The only exception to this rule is when the pedestrian steps into the road to board a bus or other vehicle.
Even when crossing the street in a crosswalk, pedestrians must follow the signs and signals. When signs are flashing "Don't Walk" or other warning signs, pedestrians must obey the signs and yield the right of way to drivers.
Who Is Liable When a Motorist Hits a Pedestrian?
Although many people think that motorists are always liable when they strike a pedestrian, they are not. In many scenarios, the pedestrian may be completely at fault for the accident. In other situations, the pedestrian may at least share some blame with the driver for the collision.
For example, if a pedestrian jumps directly into the path of a car traveling down the road, the pedestrian may be entirely responsible for the crash. On the other hand, if a pedestrian was crossing the road in a crosswalk with the warning sign flashing, and a car turned at the intersection and hit the pedestrian, both parties could share blame for the crash.
Most states follow a modified version of contributory negligence, in which accident victims can still claim compensation even if they were partly at fault for an accident. But that is not how it works in Virginia.
Virginia follows a pure contributory negligence rule. This rule could greatly affect the ability of injured pedestrian to recover damages after a collision with a motor vehicle driver. The rule bars an accident victim from receiving any compensation if the victim was even one percent at fault for a crash. Motorists typically use this as a defense in pedestrian accident claims. This is why it is so important that injured pedestrians speak to an injury lawyer as soon as possible in order to protect their rights.
Get Help from a Virginia Pedestrian Accident Lawyer
If you have been injured or lost your loved one in a pedestrian accident in Virginia, our attorneys at Marks & Harrison will know how to pursue all compensation that you are entitled to receive. We have a team of investigators who can conduct an immediate and thorough investigation to determine who was at fault for your crash, and we will collect evidence to support your claim. While you are recovering, we will handle every detail of your case and work hard to pursue a positive outcome. To discuss the specific facts of your case, contact us today and receive a free consultation.