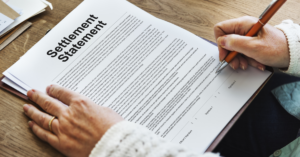 Many people think of personal injury cases in terms of lawsuits. In fact, many personal injury claims never get to court. They are resolved through negotiated insurance settlements. Our Richmond personal injury lawyers file lawsuits asking the court to compel an insurance company to pay a claim only when an insurance company refuses to agree to a reasonable settlement.
Our initial formal contact with an insurance company in a personal injury case is often a demand letter. This letter informs the insurer what they owe our client and why. A demand letter on Marks & Harrison letterhead typically gets more attention than an individual's insurance claim. A demand letter often leads to negotiations that eventually yield a settlement acceptable to our client.
How long settlement negotiations take depends on many factors. If you are represented by Marks & Harrison, you'll know what is happening in your case at every step in the process. In addition to obtaining some of the largest personal injury recoveries in Virginia, we are regularly voted the best law firm in Richmond-area readers' polls. Our clients know we look after them throughout the process of a personal injury claim.
How Do Personal Injury Claim Settlements Work in Virginia?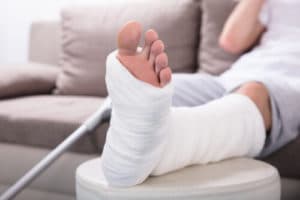 Most personal injury claims in Virginia are settled outside of court. This is a good thing. It saves time, expense and stress on people already dealing with a serious personal injury or the loss of a loved one.
Our first task as your attorneys is to investigate the accident that left you injured – a car accident, tractor trailer accident, motorcycle accident, slip and fall – to determine who was at fault and therefore legally liable. Then we identify the insurance policies held by at-fault parties that may provide compensation to you. Our ability to uncover evidence and create a convincing legal case for the at-fault party's liability is the value of engaging an experienced Richmond personal injury law firm, such as Marks & Harrison.
We will have medical professionals review your medical records to advise us about your injuries and recovery prospects. We'll create a full accounting of your economic costs and losses related to the injury including future costs. This may be the most time-consuming factor in a personal injury claim. We must be sure you have reached your maximum medical recovery to assess accurately your total costs and losses.
With this information, we can issue a demand letter to any at-fault party's insurance company. It will outline their client's responsibility for your injury, their responsibility to their client and our demands for compensation to you. We will explain point by point why we make the demands contained in the letter and cite some of the evidence that supports our assertions.
At this point, the insurance company can:
Cut a check for the amount we have demanded
Deny their client's liability and reject the claim
Dispute some of our assertions and offer a settlement that is less than our demand.
The final option above is what happens most often and, thus, negotiations toward a settlement begin.
How well negotiations proceed will depend on the strength of the evidence supporting your claim. The insurance company will have investigated the accident, as well. They won't know anything we don't know, but they'll certainly portray it differently.
Mainly, the insurance company will try to show that you should shoulder some blame for the accident. In Virginia, that may mean the insurance company can avoid having to pay the claim.
Strict Contributory Negligence Rules in Virginia
Virginia applies one of the strictest contributory negligence standards in the country to personal injury claims. We discuss Virginia's contributory negligence rule in another blog post but, essentially, Virginia law says that if you contributed to the incident that caused your injury in any way, you may not recover a settlement from the other party involved.
However, that rule applies to jury awards in court. At the negotiations stage, what counts is what each side believes it can prove if the case goes to court. Because of our long experience and success, most insurers know that a demand letter from Marks & Harrison is backed by solid evidence and attorneys who are serious litigators.
In most cases, the insurance company has a target figure based on past settlements that it doesn't want to exceed. They do not want to go to court and risk losing even more in a jury award. They will argue facts and provide more evidence to negotiate a payout that suits their bottom line, and we'll do the same as we push for a settlement that meets your financial needs.
Negotiations over a potential settlement may last for several months.
Sometimes representatives of an insurance company drag their feet in negotiations, knowing they will eventually have to settle. It could even be a matter of making sure a large settlement shows up on the books in the next quarter if, for example, the company has just paid multiple claims.
Filing a Lawsuit Amid Settlement Negotiations
If negotiations drag on without progress toward an acceptable settlement, we will file a lawsuit asking the court to order the insurance company to pay the claim. A lawsuit demonstrates that we are serious, and the ensuing exchange of evidence provides the insurer with a better idea of the strength of our case.
Lawsuits can be settled at any time before the jury returns a verdict, and many are settled during or soon after discovery.
In most cases, Virginia's statute of limitations for filing a personal injury lawsuit allows two years from the date of injury.
Contact a Richmond Personal Injury Lawyer
All Marks & Harrison, personal injury cases start with a free legal consultation about your options for seeking compensation. If we can file a claim for you, we won't charge any legal fee unless and until we recover a settlement or jury award for you. We handle all personal injury claims on a contingent fee basis.
Let us help you. Call us or submit our online form today.