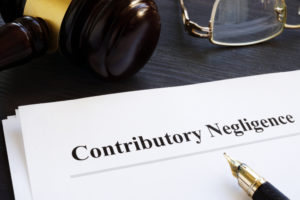 Virginia residents who seek insurance settlements for injuries after accidents sometimes come up against a stunner of a rule known as contributory negligence. It can stop a deserving accident victim in their tracks and leave them without a dime of compensation.
Under Virginia's contributory negligence rule, if a person injured in an accident contributed to the accident, the person's negligence will disqualify him or her from recovering compensation for any expenses and losses related to the accident such as for medical expenses, lost income, and pain and suffering.
Virginia's contributory negligence rule holds that if it can be shown that the injured party contributed in any way to his or her injury, the individual is barred from recovery. Most states utilize a "comparative fault" rule or "modified contributory negligence rule," where an injured person may still recover even if they are found to be partially at fault for their accident.  Virginia, however, is one of 4 states with a "pure" contributory negligence rule that holds, in theory, that if an injured person is even 1% at fault for their injury- they are barred from recovery.
That is why it is especially important to be represented by an experienced personal injury lawyer who will fight any attempts by the insurance company to shift the blame for an injury to the victim.
Virginia's rule dates to a case known as Baskett v. Banks, 45 S.E.2d 173 (Va. 1947), a case about a pair of assaults, which states:
No person is entitled to recover from another for damages which have been occasioned by his own act or his own neglect.
Courts in Virginia have repeatedly confirmed that narrow view of an accident victim's obligations.
In Ravenwood Towers, Inc. v. Woodyard, 244 Va. 51, 419 S.E.2d 627 (1992), the Court ruled that it should have been up to the jury to decide whether an 88-year-old woman with poor eyesight was negligent for not seeing that an elevator was misaligned with the floor. She sued to recover damages for personal injuries suffered when she fell while entering the elevator. At one point, the woman said she could have seen the misalignment if she had looked at it, but her ophthalmologist testified she was legally blind in one eye and therefore had no depth perception.
The Court said the elevator was an "open and obvious" danger and the jury should have been allowed to weigh whether the plaintiff, despite her poor eyesight and a "dimly lighted" hallway surrounded by brown walls and brown elevator doors and interior, was in some way responsible for her fall. The Court did rule that the plaintiff's statement that she could have seen the defect was an expression of opinion and not an admission of negligence, as the apartment complex owners contended.
In this and other cases, the Virginia Supreme Court held that "reasonable minds could differ" on whether a dangerous condition or defect is open and obvious, and therefore a jury should decide whether a plaintiff contributed to an accident in any way.
How We Can Protect Your Rights After an Accident
Virginia's pure contributory negligence rule puts the onus on a jury to decide whether the injured plaintiff did anything to cause the accident and injury. It's a tough standard. Make one mistake and your claim may be rejected, regardless of the defendant's negligence.
However, Virginia has another rule that, in some cases, can be a saving grace for a negligent plaintiff.  This rule, known as the "last clear chance" doctrine puts the final burden to act avoid an injury on the defendant is certain conditions are met
Despite the fact that the plaintiff may have put himself into a peril, the defendant may still be liable for an injury in the following circumstances::
In the case where the injured person/plaintiff placed himself in a situation of peril but is unable to remove himself (for example, is now unconscious), the defendant is liable if a) the defendant saw or should have seen the plaintiff AND had time to avoid the accident by using reasonable care; or
The injured person/plaintiff has placed himself in a situation of peril from which he is able to remove himself, but is unaware of the peril, and the defendant actually saw the plaintiff, realized or should have realized the plaintiff was in peril, and had time to avoid the accident using reasonable care.
If the defendant had the last clear chance to avoid the accident and failed a reasonable opportunity to act upon it, the plaintiff is not barred from recovering compensation, despite any negligence on their part.
The Court upheld the doctrine in 2007 in Coutlakis v. CSX Transportation, Inc., et al., a case about a man who was struck by a train and killed as he walked along railroad tracks in Richmond, Virginia, while listening to music through earbuds. His wife argued on behalf of his estate that neither the CSX engineer nor the conductor tried to alert the man or avoid the collision. CSX argued last clear chance did not apply because the deceased's negligence continued up until he was struck by the train, thus the doctrine did not override the deceased's contributory negligence.
The Court ruled that "(t)here can be little doubt" that the plaintiff should be allowed to argue the last clear chance doctrine. The facts showed that the deceased was unaware of his peril, that the engineer and conductor saw him, that "they knew or should have known that (the deceased) was in peril and that (the engineer and conductor) had sufficient time to take action to avoid the accident, had they used reasonable care," the Court said.
This ruling provided additional opportunity to help plaintiffs in personal injury and wrongful death cases in Virginia. The Richmond personal injury lawyers of Marks & Harrison may apply the last clear chance doctrine to protect your right to pursue compensation.
As your attorneys, we would thoroughly investigate the circumstances of your accident and injury and seek evidence that supports your claim. Most personal injury cases are settled outside of court. Many times, a case comes down to portraying our client's case in the best light and our ability to persuade insurance company lawyers in settlement negotiations or, when necessary, when presenting your case to a jury.
In the meantime, we would counsel a client to never provide a statement to an insurance company after an accident and never to sign anything offered by an insurance adjuster without consulting with an attorney first. Potential plaintiffs in accident claims should avoid talking about their cases on social media or in other circumstances because they could say something that might be used against them to damage their claim.
Contact Our Richmond, VA, Personal Injury Lawyers
Every personal injury or wrongful death case is unique. Your best bet after being injured in any accident that someone else caused is to speak to an experienced personal injury attorney as soon as you are able.
At Marks & Harrison in Richmond, Virginia, our attorneys can provide a confidential legal assessment of your case and opportunities to pursue a claim at no charge to you. We will not charge a fee unless we recover money for you. Act now to schedule your free, no-obligation legal consultation.