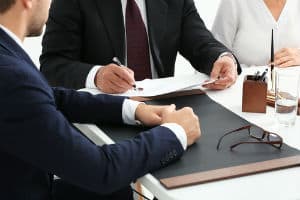 Getting hurt in a car accident in Richmond, VA can be devastating. Personal injuries often result in extensive hospital bills, treatment costs, and the inability to earn a living. When your injuries are so severe that they prevent you from going to work and doing your job, the financial costs associated with your injuries often seem even more overwhelming. You should not be responsible for the costs of your injuries when they occurred because of another party's negligence. You can hold the responsible party liable by filing a car accident claim, and an experienced Virginia personal injury attorney can help.
At Marks & Harrison, we are dedicated to helping injured Virginia residents with a wide variety of accident claims. We provide trustworthy and compassionate service for every client we serve, while also ensuring that each plaintiff receives aggressive representation. We want our clients to know their rights and to feel confident in filing a claim to receive the compensation they deserve. We offer a free consultation and can speak with you today about your options.
Get to Know the Attorney
One of the very first steps in filing an accident claim is meeting and hiring an attorney who you can trust. When you meet with a Richmond injury lawyer, you will want to learn more information about the attorney's case history, as well as the firm's history in its representation of personal injury clients. For example, has the firm handled cases like yours before? Does the attorney have a record of success when it comes to car accident cases?
Given that accident claims can have numerous outcomes, you might also want to learn more about the attorney's experience settling cases, negotiating with the insurance company, and taking cases to trial if need be. Sometimes it can be beneficial for a plaintiff to settle a case. In other situations, however, the plaintiff may need to go to trial in order to receive just compensation for her losses.
Introduce the Attorney to Your Case
You will want to bring a number of documents with you to your free consultation in order to introduce the attorney to your case. First and most importantly, you will want to tell the attorney when the accident happened and when your injuries occurred. This date is extremely important because it will help the attorney to know whether the statute of limitations has run for your case. Generally speaking, the statute of limitations is the time period that a plaintiff has to file a claim. Under Virginia law (Va. Code Section 8.01-243), most personal injury claims have a two-year statute of limitations. This means that the plaintiff will need to initiate her claim within two years from the date she sustained her injuries. If the statute of limitations has run out, the plaintiff may be ineligible to file a lawsuit.
Once the attorney knows that you are eligible to file a claim, the attorney may ask to see a variety of materials. Depending upon the specific facts of your case, these materials may include but are not necessarily limited to the following:
Police report(s);
Detailed medical records;
Statements from your physician or surgeon;
Photographs from the scene of the accident;
Photographs of your specific injuries;
Statements from witnesses;
Insurance policy numbers and other policy documents;
Any information you have about the other defendant, including contact information and insurance policy information;
Dates and times of contact with the insurance company; and
Notes concerning conversations with the insurance company.
Questions You Will Want to Ask
Before you meet with a Virginia personal injury lawyer, you should think about the questions you want to ask. It is important to remember that you should only work with an attorney with whom you feel comfortable, and asking questions is a helpful way to determine whether a particular lawyer is right for your case. Do not be afraid to ask any questions at all. Remember, this is your consultation.
Some examples of common questions we receive from clients include the following:
How long have you been handling accident lawsuits?
Do you have experience handling cases with fact patterns similar to the facts of my case?
How long should I expect my case to last?
How much longer will the case take if we go to trial instead of settling?
What kinds of damages can I be eligible to receive?
How much are typical damages in an accident case like mine?
How much are attorneys' fees likely to be in my case?
Overall, how much will my case cost?
Attorney Feedback About Your Case
During your free consultation, the attorney will listen to your retelling of the facts and will study the materials you bring with you. Sometimes your case may be relatively easy to settle, while in other situations the case may require extensive investigation and legal work to move forward. Some injury victims may not be eligible to file a claim for compensation based on the facts of the case or on the statute of limitations. At Marks & Harrison, the attorney you speak with will provide you with honest answers about the viability of your case and will discuss your options with you for moving forward.
Discuss Fees and Sign Documents
If you decide to work with an attorney on your case, the next steps in the consultation phase are agreeing to legal fees and signing documents. Often, your Virginia personal injury lawyer will take your case on a contingency fee basis. This term simply means that we will represent you without you having to pay any money up front. Your lawyer will only collect a fee if you are able to obtain compensation.
This is often the most beneficial arrangement for accident victims in Virginia who are already struggling with medical bills and lost wages. We recognize that you may not have the funds to pay for a lawyer up front, and working with a lawyer on a contingency fee basis can help to ease some of the financial anxiety associated with filing a claim.
Next Steps in Your Personal Injury Case
Once you have officially hired a personal injury lawyer for your case, your attorney can begin working on your claim. This can involve contacting the insurance company or the other party's representation, engaging in settlement negotiations, working with investigators and accident reconstruction experts, and sometimes preparing for trial.
Contact a Richmond Personal Injury Lawyer Today
Whether you were injured an accident in Richmond, Tappahannock, or elsewhere in the state, an experienced car accident attorney in Virginia can assist with your claim. Contact Marks & Harrison to get started on your case.