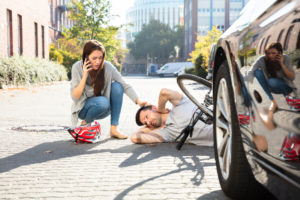 Being struck by a vehicle while crossing the street is a traumatic experience. The suddenness of the accident may leave you in shock, dazed, or disoriented and unsure what course of action you need to take in the minutes, hours, days, and weeks following your accident.
However, acting promptly and taking a few essential steps following a pedestrian accident will often prove critical to ensuring that you successfully recover the fair and full compensation you deserve for your injuries and other losses.
If you've been involved in a pedestrian accident, contact the Virginia personal injury attorneys of Marks & Harrison today for a free case evaluation to discuss the process of pursuing financial recovery for your injuries and damages.
Your First Steps After Being Hit by a Car While Crossing the Street in Virginia
Immediately following a pedestrian accident, you should try to take the following steps. Doing so will later be helpful when you pursue financial compensation from those at fault for your accident and injuries.
Call 911 if you've been injured or contact the police to have an officer come to prepare a police accident report.
Get contact and insurance information from the driver involved, as well as the license plate number and make and model of the vehicle involved. That way, you will know who to contact if you later need to make a claim for compensation.
Document the accident scene by taking photos or videos of damage to the vehicle, skid marks on the road, any physical injuries you suffered, the traffic controls at the scene, and the weather, lighting, traffic, and road conditions at the time of the accident.
Report the accident to your insurance company, if applicable. You may be entitled to file a claim for personal injury protection and uninsured/underinsured motorist coverage under your own auto insurance policy. Your policy likely requires you to report your accident within a certain period of time to be eligible for coverage.
Get checked out by your doctor. Even if you don't think you were hurt in your accident, the shock of the collision can mask pain and other symptoms of injury that a physician can identify in a physical examination. Promptly diagnosing your injuries will allow you to more persuasively argue that they were caused by the accident.
Seek help from a qualified Virginia personal injury lawyer. The sooner you reach out to an attorney for help, the sooner they can get started investigating the accident and building your claim for maximum compensation.
Things You Can Do During Your Recovery to Improve Your Claim
In the days, weeks, and months following a pedestrian accident, you should also take actions – and avoid taking certain actions – to help improve your chances of recovering compensation for your injuries and damages and to help maximize the value of your claim.
Follow your medical provider's instructions and recommendations. Your physical and psychological recovery depend on following your doctor or other medical provider's instructions. Following doctor's orders also shows the insurance company that you took your injuries and your health seriously.
Keep a diary or journal of your recovery. It's easy to forget details about the daily struggles of coping with a serious injury. Writing a diary or journal that contemporaneously describes the difficulties and impacts that your injuries have on your life can help you make a strong, persuasive claim for pain and suffering or lost quality of life damages.
Stay off social media. Insurance companies may keep tabs on your social media profile for any statements you might make about the accident that the insurer can use against you, or for photos, videos, or other posts that could be taken out of context and twisted to argue that you weren't injured as seriously as you claim.
Do Pedestrians Always Have the Right of Way in Virginia?
Under Virginia law, pedestrians have the right of way over motor vehicles whenever a pedestrian is crossing a public road or highway:
At a clearly marked crosswalk, whether at either end of the block or at the midblock
At any regular pedestrian crossing
At any intersection where the approaching speed limit is 35 mph or less
At any intersection or crosswalk regulated by a traffic device or a law enforcement officers, when directed to yield by such traffic device or law enforcement officer
However, even where a pedestrian has the right of way, they are required by law not to enter or cross an intersection or highway in disregard of oncoming traffic.
In all other crossing situations, except as provided above, pedestrians must yield to traffic on the highway.
What Are the Most Common Causes of Pedestrian Accidents?
Some of the most common causes of pedestrian accidents in Virginia include:
Speeding
Distracted driving, typically from texting and driving
Drowsy or fatigued driving
Driving under the influence of alcohol or drugs
Failure to yield on turns or at crosswalks
Unsafe turns
Bad weather or low lighting, which can reduce the visibility of pedestrians
How Is Fault Determined in a Pedestrian Accident Case?
After a pedestrian accident, the insurance companies and your attorney will look at several critical pieces of evidence to determine how the accident happened and who may have been responsible for causing the accident, including:
The police accident report
Accident scene photos or video
Surveillance or dashcam video
Photos or videos showing damage to the vehicle and vehicle repair estimates
Eyewitness statements
Records from your medical treatment
In some cases, these pieces of evidence will be used by accident reconstruction experts to prepare a written report or a diagram, animation, or recreation to show how your accident occurred and demonstrate who was at fault.
What Damages Can Be Recovered in a Pedestrian Accident?
When you have been injured by a motorist in a pedestrian accident, you may be entitled to recover compensation for damages you have suffered as a result of the accident, including for:
Past and future medical expenses, such as hospital stays, doctor's appointments, surgeries and other medical procedures, physical and occupational therapy, prescription medication, mobility or medical equipment, or home health care
Lost wages or income, for the time you miss from work while recovering from your injuries
Lost earning capacity, if your injuries prevent you from returning to your old job or from returning to any form of gainful employment
Loss of enjoyment or quality of life, such as disabilities or disfigurement, or loss of the ability to partake in activities you previously enjoyed
Pain and suffering, or the emotional and physical anguish and distress caused by your injuries.
Loss of consortium, which compensates your spouse for the loss of your spousal companionship and society due to your injuries
If you have been injured in a pedestrian accident in Virginia, contact the personal injury attorneys of Marks & Harrison today to schedule a free, no-obligation consultation to discuss your legal options. Learn more about how having our experienced attorneys in your corner can help you effectively pursue the fair and full financial compensation you need and deserve.