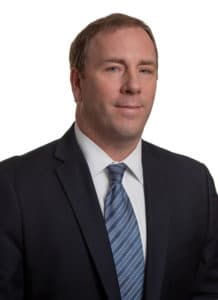 Rob Sievers has always been competitive.
Growing up in the Washington, D.C. area, Rob imagined a career in professional sports as a players' agent. While that path never materialized, he identified another career option—being a trial lawyer—that has provided ample satisfaction for his competitive nature.
Rob joined Marks & Harrison in March 2019 with a broad range of experience as an attorney who has worked in government and on both the defense and plaintiffs sides of civil law, with more than 100 jury trials to his credit.
While pursuing his legal career, Rob has also managed to continue pursuing his passion for sports. In his limited spare time, he has written sports articles—usually of an inspirational nature—for a Yahoo Sports affiliated website, The Post Game.
In addition, he belongs to a highly competitive sports fitness organization, F3, which aspires to develop strong community leaders through rigorous group activities. The group meets early in the morning every day and members participate in various long-distance racing competitions in demanding terrain.
Rob received his undergraduate degree in corporate communications with a minor in political science from Elon University in 1998. He got his J.D. from Appalachian School of Law in 2002 and then clerked for Judge Glen M. Williams, Senior U.S. District Court Judge for the Western District of Virginia.
Following his clerkship he moved to Richmond, where he became an assistant attorney general for the Commonwealth of Virginia, representing several state agencies. He also took on the role of assistant solicitor general, providing assistance to the solicitor general of the commonwealth in high-profile cases before the 4th U.S. Circuit Court of Appeals, the Virginia Supreme Court, and the U.S. Supreme Court.
In 2007, Rob left the AG's office to join an insurance-defense law firm and then in 2013 he crossed over to join a plaintiff's firm. While representing plaintiffs, he's helped his clients secure numerous successful resolutions. One of his notable cases was a jury award of $94,000 for a woman who was injured after slipping and falling on a wet floor that had been mopped in a Hampton, Va. hotel where no caution signs were set out. The defense's final offer was $20,000.
At Marks & Harrison, Rob is concentrating his practice solely on personal-injury cases, including motor-vehicle accidents, slip-and-fall cases, premises liability, and dog bites.