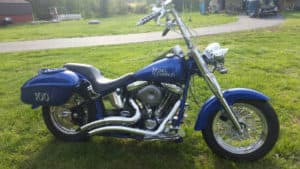 If you've seen a buff 1991 Harley Fat Boy on display in the Richmond area recently, the "Marks & Harrison" insignia on the gas tank is ours and we're pretty proud of it.
Our Firm's Director of I.T., Andy Schaeffer, built the bike from the ground up. We're showing it off as part of our commitment to the Virginia motorcycling community and to protecting the rights of motorcyclists injured in motorcycle accidents.
Look for Andy's bike at events sponsored by the Firm, including our Wednesday Night Bike Nights at Richmond Harley Davidson's Marks & Harrison pavilion. We've partnered with Richmond Harley to sponsor Bike Night at the dealership with bands and entertainment, and a chance for motorcyclists to get together and show off their bikes and enjoy an evening of motorcycles.
Andy says he bought the Harley from a friend who found it in the back of someone else's garage, where it had sat unused for years. "I disassembled it to the frame and replaced, unbent and painted a great many of the parts on the bike now," he says.
It has 16-inch ape hanger handlebars, late model Harley saddlebags with custom-made mounts to fit the older bike, Vance & Hines exhaust for low rumble and an S&S Super G carb for fast throttle, a 200-watt sound system and speakers cut into the bags, and lots of chrome, including new chrome spoke wheels, for bling.
Several Marks & Harrison attorneys and employees ride and are actively involved in the Virginia motorcycling community. Because of our experience and appreciation of motorcycles and the riding lifestyle, we want to help other riders in aspects of safety awareness as well as with legal representation if the need arises.
We know that Andy Schaeffer speaks for many when he says, "I am 54 years old now and had my license to operate motorcycles since I was 16. … Luckily I have never been involved in a street-related accident on a motorcycle, but others have."
The risks of riding are real, but worth it for many of us. If we should be hurt in an accident, all we seek is justice if someone else is at fault. That's what the attorneys of Marks & Harrison can help you with if you have been injured in a motorcycle accident.