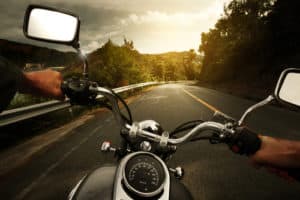 In 2013 in Virginia, more than 2,000 motorcycle accidents claimed more than 60 lives and left more than 1,800 people injured, according to the VA Highway Safety Office.
The Commonwealth of Virginia has certain requirements for operating motorcycles that the Department of Motor Vehicles says are designed to ensure the safety of motorcyclists as well as others traveling on the road. For example, Virginia requires motorcyclists to hold a valid Class "M", "M2", or "M3" designation or a motorcycle driver's license. Riders in Virginia are also required to wear a helmet as well as a face shield, safety glasses or goggles.
The Commonwealth also sponsors a motorcycle operator's course for beginning and experienced riders, which is available at community colleges and other locations throughout the state.
The VA DMV, the nonprofit Motorcycle Safety Foundation and other organizations also try to assist motorcyclists by providing a variety of tips for safe riding. We have collected a few of them here:
Wear protective gear. The most important factor for reducing injury to a motorcyclist involved in a crash is personal protection, the DMV says. The proper riding gear – a helmet, eye protection, leather jackets and trousers, durable gloves, and proper footwear – can provide this personal protection.
In Virginia, motorcyclists and their passengers must wear motorcycle helmets that meet or exceed the standards and specifications of the Snell Memorial Foundation, the American National Standards Institute, Inc., or the federal Department of Transportation. Such a helmet is usually referred to simply as "DOT-compliant."
Increase your visibility. Wear brightly colored, preferably fluorescent, riding gear. Use retro-reflective materials on your clothing, motorcycle and the helmet, especially at night.
Maintain space around you. Keep a cushion of space between your bike and other vehicles so you have time to respond to other motorists' actions. Give other motorists time and space to respond to you.
Watch for other vehicles. Watch for turning vehicles and vehicles coming from side roads or driveways. Be wary of vehicles parked along the road from which doors may be opened into your path.
Ride where you can be seen. Use lane positioning to your advantage to be seen and to provide extra space for emergency braking situations or avoidance maneuvers. Avoid other vehicles' blind spots.
Clearly signal your intentions. Make lane changes gradually, and always use appropriate hand and electronic signals well ahead of time as you move to change lanes, turn, slow or stop. Flash brake lights as you slow or come to a stop.
Do not share a lane with a car or truck. If a motor vehicle moves to share your lane, move gradually ahead or slow to the rear and then move to a center-lane position to discourage the driver.
Be in condition to ride. Never ride when you are fatigued or drowsy, or under the influence of alcohol or other drugs. Make sure your bike is ready to be ridden.
Practice. Develop your riding abilities before going into heavy traffic. Know how to handle your bike in conditions such as wet or sandy roads, high winds and uneven surfaces.
The Motorcycle Safety Foundation says over half of all fatal motorcycle crashes involve another vehicle. Most of the time, the car or truck driver, not the motorcyclist, is at fault.
If you have been injured or lost a loved one in a motorcycle accident that was not your fault in Virginia, the attorneys of Marks & Harrison can help you seek justice. You may be eligible to obtain compensation for your medical expenses, property damage, pain, suffering and more. Contact us for a free review of your case and a discussion of the legal options available to you.