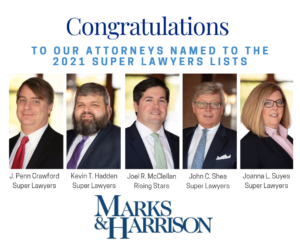 Five attorneys from Marks & Harrison have been named to the Virginia Super Lawyers and Rising Stars list for 2021. Super Lawyers recognizes attorneys who have distinguished themselves in their legal practice and less than five percent of lawyers in each state are selected to this exclusive list. The selection process for the Rising Stars list is the same as the Super Lawyers selection process, with one exception: to be eligible for inclusion in Rising Stars, a candidate must be either 40 years old or younger or in practice for 10 years or less.
Attorneys recognized as Super Lawyers are:
Rising Stars:
Super Lawyers is an independent lawyer rating service that selects attorneys using a rigorous, multilevel rating process. Through peer nominations, evaluations, and third-party research, outstanding attorneys are selected based on their professional accomplishments.