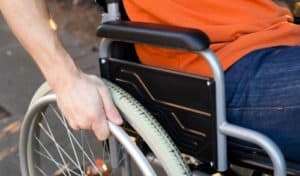 Most people never think that they will be involved in a lawsuit. But if you suffer an accident that results in serious injuries, and if you believe that the accident was caused by another person's irresponsible actions, filing a Virginia personal injury lawsuit may be the only way to recover compensation for your damages.
If you decide to pursue legal action – a decision which should be made only after consultation with an experienced personal injury attorney – you will need to prove negligence.
Negligence Is One of Four Elements in a Personal Injury Claim
Four elements must be established in a personal injury claim in order to recover damages from the defendant, or the party against whom the lawsuit has been filed.  Those elements are:
Duty of care
The first element that you, the plaintiff, would need to establish would be whether there was a relationship between you and the defendant, and the defendant owed you a duty of care based on this relationship. In many cases, a duty of care is implied. For example, a driver has a duty of care to all other drivers on the road to operate his or her vehicle responsibly.
Negligence
Negligence is a breach of the duty of care described above. In this sense, proving negligence is at the heart of all successful personal injury lawsuits. Establishing negligence can make or break your claim. The Legal Information Institute of Cornell University Law School defines negligence as the "failure to behave with the level of care that someone of ordinary prudence would have exercised under the same circumstances." Essentially, negligence is the act of doing something (or failing to act) unreasonably or irresponsibly.
Causation
While proving the existence of a duty of care and negligence are two important parts of a personal injury claim, they alone are not enough. You must further prove that your injuries would not have resulted but for the negligent actions of the defendant, or causation.
Damages
Finally, as a plaintiff, you must prove that you have suffered actual damages as a result of the accident. These damages may be economic or non-economic in nature. They often include things such as medical bills, lost wages, rehabilitation costs, pain and suffering.
Negligence in Different Types of Personal Injury Cases
No two accidents and injuries are the same. Along those same lines, each act of negligence is vastly different. Consider the examples of negligence in the following types of personal injury cases:
How an Attorney Can Help to Establish Negligence
The examples above are all straightforward, with the negligent acts being easy to pinpoint and prove. However, not all acts of negligence in personal injury cases are as obvious as the examples above.
When it comes to gathering evidence and establishing negligence in a personal injury claim, the assistance of an experienced attorney can be invaluable. An attorney should have the resources to fully investigate an accident and hire experts to provide critical information about how an accident occurred. An attorney can also request copies of police, safety, and inspection reports, interview witnesses, review medical records, analyze photos from an accident scene and more.
At Marks & Harrison, we have the skills and experience you are looking for after you have suffered an injury due to another's negligence. To learn more about our personal injury and accident attorneys, or to schedule a free case consultation, please contact our offices today. We will work hard to protect your rights and interests.