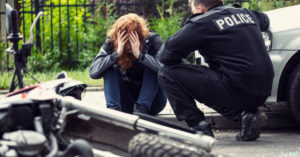 Motorcycle riders in Virginia who know the state's helmet laws are often confused about making an insurance claim after getting into an accident while not wearing a helmet. Virginia law requires that motorcycle operators and passengers wear protective helmets.
Even if you were violating Virginia law by not wearing a helmet, you should consider a legal claim for injuries suffered in a motorcycle accident that was not your fault. The lack of a helmet does not change your right to seek compensation for your losses.
We suggest you contact our Richmond motorcycle accident lawyers. The firm of Marks & Harrison has successfully represented dozens of motorcycle accident victims in Virginia. A knowledgeable motorcycle accident attorney can review the details of your accident and outline your legal options during a free consultation.
Do You Have to Wear a Helmet on a Motorcycle in Virginia?
Yes, Virginia's motor vehicle code requires that motorcycle riders and their passengers must wear helmets that meet or exceed the specifications of the Snell Memorial Foundation, the American National Standards Institute or the federal Department of Transportation.
If I'm in a Motorcycle Accident and I'm Not Wearing a Helmet, Am I More at Fault?
No, the lack of a motorcycle helmet doesn't make you 'at fault' in Virginia accidents. Virginia Code § 46.2-910 specifically says, "Failure to wear a face shield, safety glasses or goggles, or protective helmets shall not constitute negligence per se in any civil proceeding." In other words, the fact that you did not wear a helmet does not automatically mean you were negligent, or at fault, in an accident. This is important because of Virginia's adherence to a legal doctrine known as "pure contributory negligence" in personal injury lawsuits.
Under Virginia law, if you are to be compensated by the other motorist in a motorcycle accident – such as the driver of a car that hit you – you have to prove the driver bears full responsibility for the accident and your injuries. If you were partly at fault for the accident, then you would not qualify for compensation.
After you file a claim for compensation, you can expect the other driver's insurance company to investigate and argue that your failure to wear a helmet is evidence of your own negligence. The insurer will try to shift the blame to you to avoid paying a claim. It is important to have the representation of an experienced motorcycle injury lawyer who will stand up for your rights and prevent an insurance company from taking advantage of the situation.
Not Wearing a Motorcycle Helmet Could Cost You in an Accident
Wearing a helmet is the law, and it could very well be what saves your life in a crash.
The U.S. General Accounting Office (GAO) reviewed 46 studies of motorcycle helmets and helmet laws and found:
Helmeted riders have up to a 73 percent lower fatality rate than riders without helmets.
Helmeted riders have up to an 85 percent reduced incidence of severe, serious, and critical injuries compared to riders without helmets.
In its Report to Congress: Benefits of Safety Belts and Motorcycle Helmets, the National Highway Traffic Safety Administration (NHTSA) said:
Motorcycle helmets are 67 percent effective in preventing brain injuries.
Unhelmeted motorcyclists are more than three times as likely to suffer a traumatic brain injury as motorcycle riders who were helmeted.
Nineteen states, including Virginia, and Washington, D.C., have universal helmet laws. Twenty-eight states have laws requiring certain riders such as underage or inexperienced riders to wear helmets. Only Illinois, Iowa and New Hampshire do not have a motorcycle helmet law.
If you are not wearing a motorcycle helmet and are in a motorcycle accident, it could cost you a traumatic brain injury (TBI), skull fracture, broken jaw and/or other facial fractures, loss of teeth and/or a disfiguring injury, such as loss of an eye(s) or ear(s).
In addition to the pain, suffering and potential disability such injuries can cause, you may face steep medical bills. You might also find that you are unable to return to working for a living. These are the costs and losses you would seek compensation for in a legal claim. And this is where not wearing motorcycle helmet could cost you a second time.
Not Wearing a Motorcycle Helmet Could Cost You in Court
The insurance company's lawyers cannot argue that a motorcycle accident would not have happened had you been wearing a motorcycle helmet. But they will argue that your injuries would not have been as bad – and costly – as they were if you had been wearing a proper, protective motorcycle helmet as Virginia law requires.
Let's say you suffered a TBI, a broken leg and severe cuts and bruises in an accident that you could prove was a car driver's fault. The opposing lawyers might agree to compensation that covered hospitalization for your broken leg and attention to your road rash. Most care for your brain injury was concurrent, so your primary medical costs are pretty well covered.
But then, insurance company lawyers would balk at the cost of the ongoing rehabilitation you need and would certainly try to deny compensation for future income losses, because they are due to your head injury and may have been prevented by wearing a helmet.
Most motorcycle cases are settled in negotiations. We could conceivably come to agreement on a figure that you found acceptable, even if reduced to account for losses a motorcycle helmet might have prevented. If we take your case to trial, the decision to compensate you will be in the hands of a jury whose members would be told that you broke the law and would not have been hurt as badly if you had been wearing a helmet. Even with our counter-argument and the judge's instructions that lack of a helmet does not make you at fault per se, your jury award would face a potentially costly obstacle.
Contact Us About a Virginia Motorcycle Accident Claim
You absolutely can recover compensation for motorcycle accident injuries that were not your fault in Virginia, even if you weren't wearing a helmet. Any injury or loss you suffered that a motorcycle helmet would not have prevented is fully compensable. A Richmond motorcycle accident lawyer from Marks & Harrison, can help you pursue all of the compensation that you are due under Virginia law
Let a knowledgeable Virginia personal injury lawyer analyze your case at no charge and advise you as to whether you are entitled to claim compensation for your medical bills and other accident-related expenses. We will be candid with you about whether we believe you have a valid claim. If we can help, we will work aggressively on your behalf. Contact us today online or by phoning 888-807-3136. Our phones are answered 24 hours a day, 7 days a week.