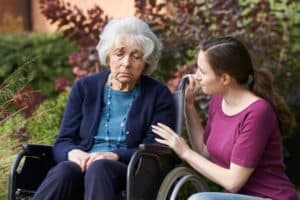 Do you believe that your elderly loved one has suffered injury due to abuse or neglect in a Virginia nursing home? Unfortunately, you are not alone. Statistics show that nursing home abuse and neglect is an alarming problem in our state.
Here, to give you some perspective about the issues that your family may currently face, we provide an overview of those statistics. To discuss the specific details of your case, contact our skilled, experienced and compassionate nursing home abuse and neglect attorneys at Marks & Harrison. We can provide a timely and free consultation through any one of our 10 offices located throughout Virginia.
Deficiencies Reveal the Quality of Care for Nursing Home Residents
According to a Kaiser Family Foundation report, which examined statistics from 2009 to 2015:
About 94 percent of the certified nursing homes in our state receive deficiency citations from the Virginia Department of Health's Long-Term Care Division.
The average number of deficiencies per home is 10.
Every year, on average, state inspectors cite 19 percent of those homes (or roughly one in five) for a deficiency for "actual harm or jeopardy of residents."
These statistics are revealing. The Virginia Department of Health inspects those nursing homes in our state that participate in Medicare and/or Medicaid, which comprises the majority of the state's nursing facilities. Inspectors conduct inspections roughly once per year, or when the department receives a complaint.
State inspectors issue deficiency citations when a facility fails to meet regulations which are designed to protect nursing home residents and to ensure that they receive the highest quality of care. Therefore, if a nursing home has a high number of deficiency citations, or "deficiencies," it can raise a red flag about how the facility treats its residents.
Additionally, it is important to look at the severity of the deficiency. CMS places deficiencies into four categories:
Level 1 (A, B, C) – No actual harm with potential for minimal harm
Level 2 (D, E, F) – No actual harm with potential for more than minimal harm that is no immediate jeopardy
Level 3 (G, H, I) – Actual harm that is not immediate jeopardy
Level 4 (J, K, L) – Immediate jeopardy to resident health or safety.
The Centers for Medicare and Medicaid Services (CMS) compiles deficiency statistics and other data about participating nursing homes in the U.S., including Virginia. CMS publishes that information on its Nursing Home Compare website. Also, ProPublica recently launched a feature that repackages the CMS data in an easy-to-read format. The following statistics are largely based on those sources.
Virginia Nursing Homes Have Received More Than 8,000 Deficiencies in Last Three Years
According to ProPublica, the Virginia Department of Health monitors 286 certified nursing facilities in our state. During the last three inspection cycles (roughly last three years), state inspectors issued a total of 8,255 deficiencies to those facilities and fined them a total of $6.01 million in penalties.
| | |
| --- | --- |
| Level  | Deficiencies |
| Level I | 213 |
| Level II | 7,782 |
| Level III | 231 |
| Level IV | 29 |
ProPublica reports that, based on CMS data, the 10 Virginia nursing homes with the highest total deficiencies were:
| | | | |
| --- | --- | --- | --- |
| Nursing Home | City | Deficiencies | Fines |
| Ashland Nursing and Rehabilitation | Ashland | 144 | $79,142 |
| Envoy of Westover Hills | Richmond | 111 | $202,650 |
| Autumn Care of Mechanicsville | Mechanicsville | 85 | $2,600 |
| Lexington Court Rehab & Health Center | Richmond | 74 | —– |
| Envoy of Williamsburg, LLC | Williamsburg | 73 | $131,286 |
| Fredericksburg Health and Rehab | Fredericksburg | 69 | $63,291 |
| Fauquier Health Rehab & Nursing Center | Warrenton | 67 | $240,340 |
| Woodmont Center | Fredericksburg | 67 | $61,274 |
| Emporia Manor LLC | Emporia | 66 | $50,635 |
| The Laurels of University Park | Richmond | 65 | $86,461 |
Most Common Types of Deficiencies in Virginia Nursing Homes
The types of deficiencies that a nursing home receives upon inspection also says a lot about the risk of abuse or neglect which residents face at the facility. The Kaiser Family Foundation identified the 10 most common deficiencies in certified nursing facilities in the U.S. As you can see in the following chart, a higher percentage of Virginia nursing home facilities have deficiencies than the national average in almost every category.  Of note, in two categories – Quality of Care and Clinical Records, Virginia's nursing home facilities rank in the bottom ten of the entire country. We marked those categories with an asterisk (*).
Top 10 Deficiencies for Certified Nursing Facilities
(percent of facilities with listed deficiencies)
| Deficiency | Virginia |  U.S. |
| --- | --- | --- |
| Quality of care | 68.31* | 36.12 |
| Clinical records |  61.97* | 22.79 |
| Accident environment | 53.52 | 42.03 |
| Infection control | 49.30 | 47.35 |
| Food sanitation | 42.25 | 43.70 |
| Unnecessary drugs | 33.80 | 28.62 |
| Pharmacy consultation | 32.39 | 28.86 |
| Comprehensive care plan | 31.69 | 27.41 |
| Dignity | 19.72 | 21.91 |
| Qualified personnel | 8.45 | 19.68 |
What Can You Do If You Suspect Nursing Home Abuse or Neglect?
If you believe that your loved one has suffered abuse or neglect in a Virginia nursing home, you should report it to the proper authorities as soon as possible. If you think it is an emergency, you should call the local police. Otherwise, you should report your case to your nearest Department of Social Services or Adult Protective Services in Virginia (APS), which has a 24-hour, toll-free hotline at (888) 832-3858.
You should also contact Marks & Harrison to learn about your rights and options. We are here to assist you in all facets of your case. We can handle everything from working with authorities to investigate the conditions and treatment provided by your loved one's nursing home to filing a lawsuit that seeks damages such as past and future medical costs, pain, suffering, emotional distress and more. Our goal will be to put an immediate end to your loved one's mistreatment and to recover all of the compensation which your loved one and your family are due.
Generally, you must bring an action for nursing home abuse or neglect in Virginia within two years from the date of injury. To pursue a lawsuit on behalf of an elderly loved one, you will also likely need to have durable power of attorney or be legally appointed as his or her guardian. If you do not have these matters in place, Marks & Harrison can assist you.
With offices located in Richmond and nine other cities in Virginia, we can meet with you right away. Call or reach us online today to get started with a free and confidential consultation.