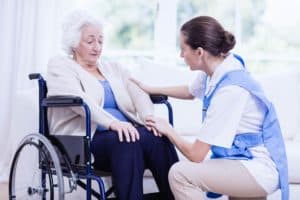 Deciding to place a loved one in a nursing home is one of the most difficult decisions a family has to make. You put your trust in the facility owners and staff, and you reasonably expect that your loved one will receive the care that he or she deserves. If the worst happens, and your loved one suffers injury due to abuse or neglect, you have the right to sue the nursing home and seek justice and compensation.
The Virginia nursing home abuse and neglect attorneys of Marks & Harrison are here to help you to put a stop to the mistreatment of your loved one and seek accountability from those responsible for it. For more than a century, our attorneys have protected the rights of injury victims and their families throughout Virginia. We can go to work for you today. Contact us now for a free consultation.
What Behavior Can Lead to a Nursing Home Negligence Lawsuit?
When an act of negligence or abuse causes harm to a patient or resident, family members have a right to seek justice through a civil lawsuit against those responsible, including the facility itself. The conduct of an employee, an ongoing facility practice or poor staff training and supervision can create a hazardous environment for residents, who are some of the most vulnerable members of our population.
Some of the most common types of negligence on the part of nursing home owners, administrators and staff members are:
Failure to provide adequate medical treatment – You may have a case for medical malpractice against the nursing home facility or the individual medical professional who provided inadequate medical treatment.
Medication Errors – Nursing homes must be very careful to deliver the correct medications to the correct residents to insure that residences are not harmed by unnecessary medicine
Failure to maintain adequate staff – Nursing homes must have a sufficient number of trained employees in order to meet the medical needs of the residents at all times.
Failure to maintain appropriate health and safety policies – A nursing home must maintain sanitary conditions in residents' rooms and in common areas.
Sexual abuse – Unfortunately, nursing home residents can be a target for nursing home staff and other residents to abuse
Inadequate supervision of residents – Adequate supervision will vary from patient to patient. It will depend on the patient's needs. In general, residents should be supervised when walking, bathing, eating, drinking and engaging in other activities. They should also be monitored when changing clothes, sleeping, taking medication and even when sitting in the recreation room.
Dehydration/Malnutrition – Many nursing home residents require significant assistance to insure that they receive appropriate food and water intake on a daily basis.  These vital services sometimes fall through the cracks and residents are harmed as a result.
Negligent hiring of employees – Nursing home administrators have a responsibility to hire qualified and caring employees. The facility is responsible for properly vetting, training and supervising all employees.
Falls/Drops – Many nursing home residents are fall risks and require assistance in moving about on a daily basis.  Nursing homes must take care to insure that these residents are moved and transported appropriately.
Failure to keep the premises reasonably safe – Owners and administrators have a duty to maintain the premises and keep the property reasonably free of potential hazards. If a resident is injured due to negligent care, maintenance or upkeep of the premises, the facility could be liable for the harm which the resident suffers.
Regulations and the Standard of Care in Nursing Homes
Quality of care is the fundamental principle guiding the Nursing Home Reform Act. This federal legislation applies to all nursing home and residential care and treatment facilities in Virginia. The goal of the law is to ensure that elderly residents receive the best possible care, and it is designed to protect their mental and physical well-being. The law requires care facilities to maintain professional standards of practice.
Nursing facilities that receive funding for Medicare and Medicaid must carefully comply with the law's requirements. It requires that a residential or treatment facility make sure that each resident receives adequate supervision and assistive devices such as wheelchairs and walkers. Additionally, the facility must provide an environment that is as free of accident hazards as possible. Under the law, nursing homes are specifically required to:
Promote each resident's quality of life.
Treat each resident with dignity and respect.
Conduct an initial comprehensive and accurate assessment of each resident's functional capacity.
Make sure each resident can bathe, dress, groom, transfer, move about, use the toilet, eat and communicate.
Provide the necessary services to maintain proper nutrition, grooming and personal oral hygiene if a resident cannot perform these vital functions without help.
Ensure that residents receive appropriate treatment and assistive devices to help with vision and hearing.
Take necessary precautions to prevent pressure sores from developing. If they develop, they must be treated, and the facility should take steps to make sure they don't appear again.
Provide adequate supervision to all residents.
Ensure proper nutrition and provide assistance with eating and drinking when necessary.
Make sure residents get enough fluids to prevent dehydration.
Protect residents from significant medication errors.
Keep sufficient and appropriately trained staff on hand at all times.
Keep all residents' clinical records up-to-date, accurate and easily accessible.
Under federal law, a nursing home resident also has the right to choose and refuse services and procedures according to their personal standards for quality of life. Nursing home patients not only have the right to receive proper medical care in a safe environment, but they are also entitled to privacy, security and dignity.
Proving Liability in a Nursing Home Abuse Case
Determining who is liable for the injury of your loved one while in the care of a nursing home facility can be complicated. Different parties such as the owner, operator or staff member may be liable. Sometimes, more than one party is responsible and should be held accountable. Each case is different and deserves an investigation by authorities and a qualified nursing home abuse attorney.
An experienced lawyer at Marks & Harrison will conduct a thorough, independent investigation, and we may also consult with experts on the proper standard of nursing home care. Once we have evaluated the situation and collected evidence, we will advise you on your legal options and help you to seek just compensation for the harm that your loved one and your family has experienced.
Contact Our Virginia Nursing Home Negligence Attorneys Today
The attorneys of Marks & Harrison understand the anger, frustration and betrayal that family members feel when a loved one has been abused or neglected in a nursing home by those who were charged with their care. We are ready to help you put a stop to this mistreatment and seek justice. Our consultations are always confidential, and we won't charge any fees unless we recover compensation for you. Contact us today to get started.