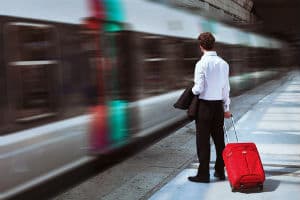 After the terrible Amtrak accident in Philadelphia last week, many Virginians who regularly travel by train are asking themselves, what if it happened to me? What would you do if you suffered a serious personal injury in a train accident?
First, you should understand that accidents are relatively rare and train travel is safe if you consider the number of trains that run every day. Federal Railroad Administration statistics (prior to Tuesday's derailment in Philadelphia) show a spike this year, with one death and 37 injuries, but only 10 injuries in 2014 and even fewer in 2013 and 2012.
But it can happen, and if you have been injured in a train accident, you should act deliberately to protect your rights. If the accident happened because of negligence on the part of Amtrak or its employees, you may have a right to compensation for the costs of your medical care, lost income and other losses connected to injuries sustained in the accident.
After a major railroad accident, the National Transportation Safety Board (NTSB) will investigate from every angle to determine what happened and why. The NTSB will publish a preliminary report about the accident within several weeks and a final report, which may take more than a year to complete. These reports will be comprehensive and publicly available. In short, when a train crashes, we find out why.
If Amtrak or one or more of its employees, or its equipment, is found to be at fault, the railroad may pay claims to those who have been injured. In some cases, the manufacturer of faulty equipment may be held liable, as well.
However, the Amtrak Reform and Accountability Act of 1997 capped payments for Amtrak's liability in accidents at $200 million per rail accident. In a large-scale accident, this becomes too little once it is split between many passengers with serious injuries and/or with survivors of those who died. The costs of care for the worst catastrophic injuries that can potentially occur in a train collision or derailment, particularly if ongoing medical care is necessary, can easily run to $10 or $20 million.
So, if you have been injured in a train accident, you need to take the required steps:
Document your injuries
Save all of your receipts and any copies of records and reports you receive from your medical treatment
Save any other records of your losses, such as documentation of work absences, costs to hire help, etc.
It is best to contact an experienced personal injury lawyer as soon as possible after suffering a serious injury in any accident because strict time limits apply. A Marks & Harrison attorney can assist and advise you, beginning with a free, no-obligation legal consultation, and ensure that your rights to compensation are protected.