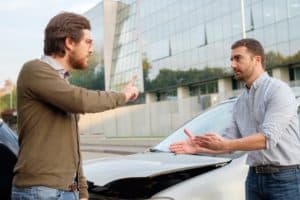 A sudden and unexpected car accident can rattle your nerves and leave you confused – especially if another driver caused the crash. As you work through the aftermath, you may fall back on something comfortable and familiar that you once heard in an insurance company ad – that the company will always be "on your side" after an accident. However, in reality, insurance companies are only on one side – their own. They want to protect their interests – not your rights.
Insurance is a for-profit business. Insurance companies make a profit when they collect more in premiums than they pay out in claims. So, when you deal with an insurance company, you need to always remember that the company is looking for ways to pay you as little as possible – if anything at all.
This leads to a question that Virginia car accident victims and their families often ask our attorneys at Marks & Harrison, "Should I talk with the other driver's insurance company?" The short answer is, "No."
Here, we explain why you should always speak with an experienced auto accident attorney first before you communicate with the insurance company of the driver who may be responsible for your crash and all of the damages that you suffered.
Why Shouldn't You Talk with the Other Driver's Insurance Company?
At Marks & Harrison, we know: A crash is a scary, stressful experience. Suddenly, you may need to deal with serious, painful injuries as well as the loss of your car, the loss of your income and the loss of your ability to enjoy life as you did before.
Insurance companies like to use the immediate aftermath of a crash to contact car accident victims. Why? Because they know that victims may still be in shock, or they may be in a state of panic about the costs and burdens that lie ahead. In other words, they know that victims are in a vulnerable position.
An insurance company claims adjuster may call you within a matter of days – maybe hours – after a car accident. The adjuster may be friendly and compassionate. However, the adjuster's role will be to serve the insurance company's best interests – not yours. You should be careful about what you say for three reasons:
The adjuster wants you to give a recorded statement.
Most often, the adjuster will use an early phone call to ask a car accident victim for a recorded statement. The insurer's goal will be to get potentially damaging information from you. So, the adjuster will ask carefully crafted questions about who was at fault and about the nature and severity of your injuries.
An insurance company can – and will – use any recorded statement that you give to the company against you. Even if you say something that seems innocent enough, the insurer may take your words out of context. So, any recorded statement could come back to haunt you.
The adjuster wants access to your medical records.
At some point, the insurance company may ask to view your medical records. The adjuster may say that the company needs your records for treatment purposes. This may be partially true. However, the company will also look to see if you have any pre-existing conditions. If you do, the company may claim that the accident did not cause your injuries or merely aggravated existing injuries. The company will try to minimize your payout based on this information.
The insurance company makes a settlement offer.
Many insurance companies try to get a victim to settle a case before all of the facts are in. The settlement offer is almost always for less-than-fair compensation. Again, the insurance company knows that you may be in a vulnerable state – physically, emotionally and financially. So, the company will try to take advantage of the situation. Unfortunately, if you accept the settlement and sign a release, you give up your right to pursue any more compensation from the insurer.
Why Should You Talk First with an Experienced Car Accident Lawyer?
When you are ready to act after a car accident in Virginia, you should contact an experienced personal injury lawyer. The sooner, the better: Insurance companies move quickly. You will need to move quickly, too, in order to protect your rights.
At Marks & Harrison, we will provide you with a free consultation through our Richmond office or one of our eight other Virginia offices. We can use the consultation to learn about your accident, and you can learn more about our record and our approach to seeking maximum compensation for our clients.
As you will see, your lawyer from Marks & Harrison will focus on your rights and your best interests. Unlike an insurance claims adjuster, your lawyer will work for you and you alone. Additionally, your lawyer will have extensive resources at his or her disposal, including a team of highly skilled paralegals and legal assistants, a former claims adjuster and former police investigators.
If we agree to work together, you can simply refer the insurance company to Marks & Harrison when a claims adjuster calls you. We will deal directly with the company while you focus on going through your treatment.
Ultimately, we will efficiently and effectively prepare your case for a settlement demand and, if necessary, for trial. We will demand full and fair compensation throughout your case and always advise you as we move forward. Additionally, we can help you with pressing issues such as repair or replacement of your car.
Contact a Virginia Car Accident Attorney As Soon as Possible
The bottom line is that the insurance company will do whatever it takes to minimize a victim's compensation after a car wreck. It starts from the first phone call. Instead of talking with the other driver's insurance company, you should contact Marks & Harrison instead. We will protect your rights. Get started today with a free consultation.