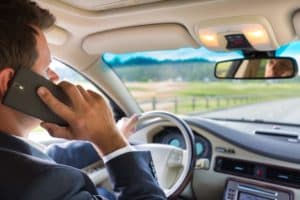 Many states have passed traffic laws banning drivers from using hand-held electronic devices. The goal of these laws is to prevent collisions and fatalities caused by distracted driving. As Drive Smart Virginia notes, nine people die and more than 1,000 suffer injuries in crashes which involve distracted driving.
In the last Virginia legislative session, lawmakers in both the House and Senate worked on reconciling a bill which would make using a hand-held device while driving illegal in the Commonwealth. However, the lawmakers failed to pass the bill before the legislature adjourned for the year. The reason: Some lawmakers were concerned that it would give police authorities too much power and potentially make some minorities vulnerable to profiling.
In 2019, members of the Virginia House and Senate are now looking to pass a new bill that is aimed at keeping drivers in our state focused less on their phones and more on the road.
Can You Use a Cell Phone While Driving in Virginia?
Virginia has seen an increase in traffic fatalities every year since 2013. Though accidents can happen for a variety of reasons, the impact that distracted driving has on at-risk populations like teenagers and young adults is undeniable. To address the issue of distracted driving, neighboring areas have passed laws banning the use of hand-held devices by drivers. In 2004 Washington, D.C. enacted a ban on drivers using hand-held devices and Maryland followed suit nearly a decade later in 2013.
Virginia has not enacted a law completely banning hand-held device use by drivers. However, each year the Virginia General Assembly has examined the issue and taken steps towards addressing it.  Over the years, the following laws have been enacted in our state:
2009 – A bill codified as Virginia Code § 46.2-1078.1 was passed in the General Assembly. The law is comprised of two main sections. The initial section prohibits texting while driving and defines it as manually entering multiple letters meant to communicate with others. The next section prohibits drivers from reading e-mails or texts while behind the wheel. Some people are exempt from this rule, including emergency vehicle drivers, drivers who are safely parked, people reporting an emergency and those who are using installed GPS systems.
2013 – The General Assembly made some adjustments to Virginia Code § 46.2-868. Under those changes, people convicted of texting and driving in addition to reckless driving face a mandatory minimum $250 fine. The fine for first-time offenders also increased from only $20 to $125. Fines for subsequent offenses jumped from $50 to $250. The General Assembly also gave police more freedom to enforce the texting while driving ban. Previously, they were only able to tack on these fines as a secondary charge. As of 2013, police can issue texting tickets even if they had no other reason to pull over a driver.
2014 – Lawmakers included a provision in Virginia Code § 46.2-1078.1 which requires a driver's license examination to include vital information on distracted driving. This ensures that all people seeking a license in Virginia understand how seriously the state takes the issue of cell phone use behind the wheel.
2018 – Due to issues with distracted driving in work zones and other hazards which constructions workers and first responders face, the General Assembly boosted fines in work zones, with the fine being $250 no matter the circumstances.
While all of these steps have certainly given law enforcement some more latitude in enforcing distracted driving laws, they do not address the issue in the same way that a complete hand-held ban would.
Beyond legislation, many telecommunication companies have created social media campaigns to raise awareness about distracted driving. In addition to providing information about safe driving, these companies are encouraging people to make safe driving pledges. Also, many phones today feature built-in resources that cause drivers to go into "driving mode" when their car is in motion. This mode causes the phone to automatically respond to any incoming messages so that the driver is not notified or tempted to respond while driving.
New Virginia Bill Would Ban All Cell Phone Use While Driving
On the heels of failing to pass a more stringent bill at the end of 2018, Virginia lawmakers are hopeful that they can pass something in 2019. Delegate Chris Collins recently introduced House Bill 1811, which would directly address the use of hand-held devices while driving. Specifically, the bill would prohibit drivers from holding a "personal communications" device while driving. If passed, this bill would be a step forward from the current law, which merely prohibits reading and responding to texts or e-mails.
Under the current law, drivers in Virginia can technically hold a phone to their ear, browse websites and social media and use GPS and music streaming services without an app. All of these activities would be illegal under H.B. 1811, and drivers could face tickets and fines if engaged in those activities.
Get Help from Our Virginia Distracted Driving Accident Lawyers
Using a smartphone while driving can have devastating consequences. If you or someone you love has been hurt due to a distracted driver in Virginia, turn to a law firm with more than a century of experience with helping people in our state to pursue justice and fair compensation.
As one of the largest personal injury firms in the state, Marks & Harris on has the attorneys, support staff and resources necessary to handle any injury case, large or small. If you have been severely injured in a car accident due to someone else's negligence, let us put our experience to work for you. Schedule a free, no-obligation consultation with our team by calling or reaching us online today.