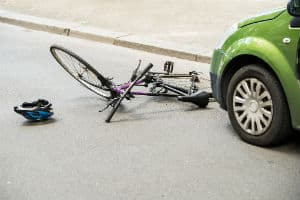 Bicyclists are one of the most at-risk groups for serious injuries in car accidents. Fortunately, new technology promises to play important role in substantially lowering the risk of injury to bicyclists. A new smartphone app may be a key factor in preventing bicycle accidents.
According to ABC 7 News, the app is called "BikeShield" and can be downloaded at no cost to drivers or bicyclists. The more people who install the app, the less chance there is of a bicyclist being inadvertently hit or killed, as long as both parties are carrying cellphones. It is crash avoidance technology geared towards the bicyclist, motorcyclist and other at-risk riders.
The way it functions is quite remarkable. The app sends out a constant acoustic signal to surrounding vehicles alerting drivers to an approaching bicyclist, even before the bicyclist arrives in the driver's line-of-sight. Bus drivers can also use BikeShield's "Bike-to-Bus Communication System" to minimize the risk of a collision, and cities are being encouraged to include the use of this technology in their bike-sharing programs. Maybe in the future we'll see this app and other similar technologies installed as a basic feature in newly manufactured vehicles.
Bicycle Accident Statistics
What makes this particular app so innovative is its potential ability to reduce or eliminate senseless collisions between bicyclists and motor vehicles.  There are far too many of those accidents.
The Insurance Institute for Highway Safety (IIHS) reports that 741 people lost their lives in bicycle-involved accidents in 2013, with 84 percent being under the age of 21. We believe technology to protect those vulnerable riders is long overdue.
The National Highway Traffic Safety Administration (NHTSA) reported that more than 48,000 people were injured in accidents involving bicyclists or other cyclists in 2013. In total, bicycle-related fatalities accounted for approximately 2 percent of all vehicle-related fatalities in the U.S. that year. About 1.1 percent of the total traffic fatalities in Virginia were bicyclists.
While many actions can be taken to reduce the risk of injury while riding a bicycle, helmets have long been proven effective, but are not foolproof. In 2013, 127 of the 741 bicyclists killed were wearing helmets at the time of the collision. Factors such as time of day and type of road can also have an impact on the number of bicycle accidents. It is hoped that with the use of this innovative app, riding your bicycle at dusk or during evening hours, along urban streets or through intersections could be less likely to result in injuries or death.
Other Actions You Can Take to Avoid Bicycle Accidents
In addition to using the BikeShield app and ensuring you wear a properly-fitted helmet while riding a bicycle, both bicyclists and drivers can take other actions to avoid being involved in a bicycle accidents, including the following:
Making sure to follow the rules of the road at all times
Ride in the same direction as traffic
Wear light, fluorescent or reflective clothes to increase visibility, particularly when riding at night
Attach a front light, as well as a rear reflector to warn vehicles of your presence
Check your brakes, tires and other equipment before heading out on a ride
Stay alert and avoid distractions which could put you at higher risk of injury
Maintain control by keeping your hands on the handlebars
Never text while riding a bike
Never drink alcohol prior to riding a bicycle
Stay on alert so you can safely avoid potholes and other road hazards
Yield the right-of-way as required by law
Let drivers know your intentions by being predicable and always signaling all turns
Drivers can minimize their risk of being involved in a serious or fatal bicycle accident by:
Avoiding driver distractions
Being courteous and sharing the road, and always leaving at least three feet when passing a bicyclist
Be aware and alert when opening car doors, pulling down a driveway or leaving a parking spot
Yield to bicyclists at intersections or when directed by traffic signs and signals
Always use your vehicle signals to alert bicyclists of your intentions
Pay extra attention when going through an intersection, passing parked cars or making a turn
Taking these simple steps can help reduce the risk that you or someone you love will be injured or killed in a bicycle accident, or that you, as a driver, are responsible for harming or fatally injuring a bicyclist.
Sources: