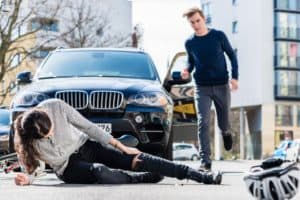 The aftermath of a bicycle accident can be a confusing time. You are likely suffering from injuries and shock, and you are wondering how the accident happened. You may also be worrying about how you are going to pay for your medical care.
However, you should know that, if someone else caused the accident that led to your injuries, insurance may help to cover your costs. There is a lot to know about the different types of insurance that may cover you, and getting that coverage isn't always easy. You need to speak to an experienced bicycle accident lawyer at Marks & Harrison.
For more than 100 years, we have protected the rights of accident victims throughout Virginia and fought for the compensation they deserve. We can launch an immediate investigation of your case. Get started now and contact us for a free consultation.
Types of Injuries in Bicycle Accidents
Cyclists have no protection around them. Perhaps only a helmet will keep them safe. For this reason, they face a high risk of injuries when they get into collisions with motor vehicles. The most common injuries that bicyclists suffer in crashes are:
Fractured clavicle
Fractured hands or wrists
Broken arms or legs
Torn shoulder ligaments
Back injuries
Spinal cord injuries
Head injuries, including concussions and skull fractures
Broken ribs
Punctured lungs
Facial injuries
Dental injuries
Dislocated jaw
Whiplash
Contusions
Lacerations.
It's important to prove these injuries in any bicycle accident case. Additionally, you must prove that someone else was negligent and caused the accident.
Insurance Options for Virginia Bicycle Accident Victims
If another driver did something careless or reckless to cause your bicycle accident, your first option would be to file a claim through that driver's liability auto insurance. Virginia law requires drivers to carry liability insurance that provides coverage in the following minimum amounts:
$25,000 bodily injury or death (per person)
$50,000 bodily injury or death (per accident)
$20,000 property damage (per accident).
It is possible that the driver who caused your crash has liability insurance that greatly exceeds those minimum amounts. Of course, it also possible that the driver's insurance will fail to fully cover your medical expenses, lost income, pain, suffering, emotional distress and other damages. If that occurs, your lawyer from Marks & Harrison can review your insurance policy with you, determine whether you have underinsured motorist insurance (UIM) and help you to file a claim with your own insurance company.
Another possibility may be that the driver who hit you has no insurance. This happens more often than you would imagine. After all, Virginia law permits drivers to be on the road without insurance so long as they pay a $500 uninsured motor vehicle. If this occurs, you could pursue compensation after a bike accident through your own uninsured motorist policy (UM).
Unfortunately, many bicycle accident victims suffer injuries due to the negligence of drivers who flee the scene after the collision. These are also called hit-and-run accidents. If this occurs to you, then our legal team at Marks & Harrison can join forces with local law enforcement officers to try to track down the suspect. However, if the suspect cannot be found, then we can help you to file a UM policy – again, with your own insurance company.
What happens if you get into a crash that does not involve a motor vehicle? For instance, you may collide with a person on one of the electric scooters which have grown in popularity in cities such as Richmond and Charlottesville. At Marks & Harrison, we can help you to explore options in those types of situations which may include filing a claim through your homeowner's or renter's insurance.
How Can Our Virginia Bicycle Accident Lawyers Help You?
Not every bicycle accident requires the assistance of a lawyer. However, in most cases, you will benefit from having an experienced personal injury attorney at your side. This is especially true if you have suffered serious injuries that require extensive medical treatment such as surgery, assistive devices and rehabilitation.
Insurance companies do not want to pay out expensive injury claims. Even your own insurance company may try to minimize the amount of your claim or avoid paying you anything. For instance, many insurance companies try to shift blame for an accident to the bicyclist. Under Virginia's contributory negligence rule, you can be barred from recovering any compensation if you are even 1% at fault.
Our law firm won't let this happen to you. A skilled attorney from Marks & Harrison can counter these common insurance company tactics and fight for the compensation that you deserve. Insurance companies are out for themselves. Our attorneys will be solely focused on protecting you and your legal rights.
When an attorney represents you, it also tells the insurance company that you are ready to litigate, if necessary. While insurers don't want to pay out claims, they will also want to avoid the costly and time-consuming task of going to court. So, with an attorney in your corner, an insurer will be more likely to take you and your bicycle accident claim seriously and provide a full and fair settlement offer.
Contact Our Experienced Virginia Bicycle Accident Attorneys Today
If you have been injured in a bicycle accident, don't try to take on your case alone. At Marks & Harrison, our bicycle accident lawyers know you have rights. When we take on your case, we will aggressively protect your rights and pursue all compensation that you are due. In doing so, we will explore all of your insurance coverage options and handle every aspect of dealing with the insurance companies.
With offices in Richmond and throughout Virginia, we are ready to put our skill, experience and resources to work for you today. Our consultations are always free, and we never charge costs or fees unless we recover compensation for our clients. To learn more about how we can help you after your bicycle accident, call or reach us online today.