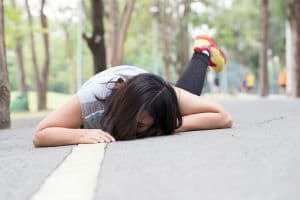 A slip and fall is a dangerous event. You can suffer serious head trauma, neck and back injuries, hip injuries and even death in a slip and fall. You may face mounting medical bills, lost wages, pain and suffering and other damages.
If you believe that a property owner's negligence caused the slip and fall, you should consider bringing a personal injury lawsuit. You may be eligible to recover compensation.
Questions to Ask About Your Slip and Fall Incident
As you consider whether to pursue a slip and fall claim, you should ask the following questions:
Did the property owner invite or permit you to be on the property?

A property owner that invites you to come onto his or her property owes you a legal duty. An example is a business that opens its doors to customers. The owner must make a reasonable inspection of the property and take reasonable steps to repair any defects or hazards.

If the property owner cannot reasonably repair a hazard, the owner must make an effort to warn you of any hazards.

Conversely, a property owner generally owes no such duty to someone who comes onto the owner's property without his or her consent.

Did your own negligence contribute to your slip and fall

Virginia is one of only a few states that follows what is known as a pure contributory negligence rule. Under this rule, if you are determined to have contributed to your own injuries in any manner, you will not be able to recover any damages.

In other words, if the landowner was 99 percent responsible for the slip and fall, but you are deemed to be one percent responsible, you will not be permitted to recover any compensation.

In many slip and fall cases, a property owner will claim that a plaintiff suffered his or her injuries from an "open and obvious" hazard.

The gist of this defense is that the plaintiff could have detected and avoided the hazard. Thus, the defendant should not be held liable for failing to repair or warn about the hazard.
The presence or absence of any single factor will not necessarily determine whether you have a slip and fall claim. However, the absence of several factors may indicate that you will have difficulty when pursuing compensation for your losses.
Additionally, you should consider the evidence you will need to establish your claim. That evidence could include:
Credible witnesses who observed the slip and fall and who are available and willing to testify on your behalf.
Photographs that clearly document your injuries as well as the hazard or condition that caused you to slip and fall such as a wet floor or an object on the floor.
Documents and records showing any of the following:

The business failed to follow its own policies in maintaining the premises.
Other people recently suffered slip and falls on the premises that were similar to your incident.
Due to understaffing, the business failed to ensure that visitors were safe.
Bills, invoices and other objective evidence that clearly shows the extent of your injuries and economic losses.
Medical records and/or other medical evidence that can tie your injuries to the slip and fall incident.
Reports or documents prepared by the property owner that set forth the business's "story" of how the slip-and-fall incident occurred – especially if these reports or documents contain admissions of fault by the property owner or an employee of the property owner.
How Long Do I Have to File a Slip and Fall Lawsuit in Virginia?
Finally, you must consider the amount of time that has elapsed since your slip and fall.
Virginia's statute of limitations for personal injury gives victims two years from the date of the incident in which to file a claim for compensation.
With very few exceptions, a slip and fall injury victim cannot file a lawsuit if he or she fails to act within this two-year window.
For this reason, you should contact an attorney without delay after you or a loved one suffers injury in a slip and fall.
Get Help from Our Experienced Virginia Slip and Fall Attorneys
An experienced and resourceful Virginia slip and fall lawyer at Marks & Harrison can review the facts of your slip and fall case. We can help you to determine whether you should pursue compensation through a personal injury claim.
We serve clients in Richmond and in eight other offices located throughout Virginia. Contact us today and discuss your slip and fall with our knowledgeable legal team in a free consultation.