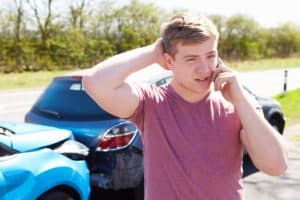 At Marks & Harrison, our car accident attorneys tell our clients that they should avoid talking with the other driver's insurance company. The reason: Insurance companies are out to protect their profits – not your interests. So, when they call you after a crash, you can safely bet that they are looking to make a settlement offer that is far below what your claim is actually worth or hunting for information that they can use against you. You are usually better off if you simply decline to speak with the insurance company and refer the company to your lawyer.
Talking with your own insurance company is a different matter. Generally speaking, you should call your insurance company after an auto accident. Your policy likely requires you to report your accident (and possibly within a certain time period). Also, by complying with your insurance policy's reporting requirement, you can preserve your right to file a claim with your insurance company down the road if it is necessary.
Types of Claims You May File with Your Own Auto Insurance Company
Typically, if another person's negligence causes your car accident in Virginia, that person's auto liability insurance will serve as your primary source of compensation. As the Virginia Bureau of Insurance (VBI) Auto Insurance Consumer's Guide explains, state law requires drivers who register their vehicles in this state to carry liability policy in the following minimum amounts (or else they must pay an uninsured motorist vehicle fee):
$25,000 for bodily injury or death of one person
$50,000 for bodily injury or death of two or more people (per accident)
$20,000 for property damage (per accident).
However, in some situations, you may need to file a claim with your own insurance company. Those types of claims include:
Uninsured motorist (UM) – If you were injured by a driver who lacked liability insurance, or if you were injured by a "hit-and-run" driver
Underinsured motorist (UIM) – If the limits of the at-fault driver's liability policy fail to cover all of your losses (which commonly occurs due to the fact that medical treatment can be extremely expensive)
Collision and comprehensive – Collision insurance would cover your property damage if you collided with another car or object such as a tree, while comprehensive would cover damage to your car for other reasons such as a flood, fire or vandalism (it does not matter who was at fault)
Medical expenses – This would pay for all "reasonable and necessary" medical and funeral expenses, regardless of who was at fault
Loss of income benefits – This insurance would cover your loss of income up to $100 per week for up to 52 weeks.
For this reason, you should not hesitate to report your accident to your insurance company. Down the road, you may file one or more of the above claims with your insurance company. According to the VBI, after you inform the insurer of your claim, the company should send you any forms you need to fill out, verify your claim and pay your claim "promptly" after it receives "adequate proof of loss." If the insurer denies your claim in whole or part, the insurer owes you an explanation.
Unlike the other driver's insurance company, you may believe that your own insurer will be "on your side." However, in reality, insurers often drag their feet on paying claims or fail to pay what a crash victim deserves. If this happens to you, you should immediately get help from an experienced car accident attorney.
Contacting an Auto Insurance Company to File a Claim
The process of filing an auto accident claim with your insurance company should be a smooth process. As stated above, the insurer should send you forms or provide a way for you to file your claim online. You should be prepared to provide information such as:
Your policy number and car information.
Your contact information and best time to contact you
Insurance information for any other parties involved in the crash
Witness contact information
A description of the accident
The investigating police officer's name and badge number and /or the number of the police accident report.
After you file a claim, an insurance adjuster will likely contact you. If you talk with the adjuster, you should:
Answer questions honestly and directly
Do not volunteer information or state any opinions
Never admit or accept blame for the accident.
Do not downplay your injuries or other losses.
Generally, the sooner you contact a lawyer, the better off you will be when you deal with insurance companies. A lawyer from Marks & Harrison, for instance, can handle all communication with both your own insurance company and the other driver's insurer. If the insurer makes a settlement offer, your attorney can present the offer to you and advise you on whether it meets your objectives. While your lawyer deals with the insurance company, you can focus on what is important: Your physical and mental health and your family.
Remember: You have no obligation to talk to the other driver's insurer or lawyer. If they contact you, you can simply refer them to your attorney.
Our Virginia Car Accident Lawyers Are Ready to Help You
Insurance company representatives will inevitably work to protect their own interests by minimizing the amounts paid out in car accident claims or rejecting claims altogether. If you have a Marks & Harrison car accident lawyer on your side, however, you will have a dedicated legal advocate to protect your rights and fight to obtain maximum compensation for your losses. Contact our Virginia automobile accident attorneys today for a free, no-obligation and confidential consultation about pursuing an insurance claim after an accident. Our firm can review your case through any one of our 10 offices located throughout the state.