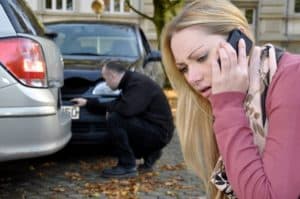 If you have been involved in a minor car accident, it is still a good idea to call police to the scene. This is true even when the damage appears to be minor, and no one initially appears to be injured. Calling the police could protect you from frivolous injury or damage claims by the other party or parties involved. It could also assist you with filing your own insurance claim.
Car accidents in Virginia involve specific reporting requirements, which we will discuss in more detail below. If you have any questions about how to report an accident, or if you would like to discuss specific details about crash that injured you or a loved one, contact the Virginia car accident lawyers of Marks & Harrison. With 10 offices located throughout the state, our help is never far away.
When Do You Have to Report an Auto Accident in Virginia?
Va. Code § 46.2-894 imposes certain duties on drivers when they are involved in any auto accident that results in:
Injury or death
Damage to an attended vehicle or other attended property.
Under the law, the driver must:
Immediately stop as close to the crash scene as possible without obstructing traffic
Render reasonable assistance to any person injured in the crash, including taking the person to the hospital if medical treatment appears to be necessary, or the person requests it (calling for an ambulance may suffice)
Report the accident to the State Police or a local law enforcement agency (such as the city police department or country sheriff's office)
Provide the other driver, another occupant of the car or a person in control of the car with the driver's name, address, driver's license number and registration number.
If a driver suffers injury that prevents the driver from complying with this requirement, the driver must, as soon as reasonably possible, report the accident to the State Police or a local law enforcement agency and make a reasonable effort to locate and provide the above required information to the other driver, another occupant of the car or the person otherwise in control of the car.
Interestingly, under Va. Code § 46.2-895,  if the driver fails to stop, anyone who is age 16 or older who was with the driver at the time of the crash and has knowledge of the accident must report it to law enforcement within 24 hours.
Remember: You should call 911 only in emergency situations. If it is not an emergency, you can call the non-emergency number of the State Police, local police or sheriff's office to notify them of the accident. If, for any reason, the police are not available to respond to the scene – or they notify you that it will be a very long wait time – you can file a report on your own. This will provide an official record of your accident that you will be able to use in the future for insurance claims or other issues that may come up.
How Will Reporting a Car Accident Help Your Claim?
Calling the police to report an accident – even what may, at first, appear to be a "minor" one – can be important for you as you move forward after the crash. Here's why:
When a police officer arrives at the scene of an accident, the officer will obtain information from the involved parties, including their drivers' license, vehicle identification numbers (VIN) and insurance information. Next, the officer will take statements from everyone involved in the accident about what occurred. The officer will also use a diagram to illustrate the intersection or area where the accident occurred and any visible damage to the vehicles.
The officer will also ask if you need medical treatment and will note your response in the police report. The officer may make additional commentary on the report in the form of a narrative, stating accident specifics. If the officer determines fault in the accident, the officer will likely issue a traffic citation to the at-fault party.
Each party involved in the accident will receive a report number. You can use this number to look up your report online after a certain period, or you can contact the law enforcement agency which prepared the report. However, if an officer finds that it is a "non-reportable" accident, the officer will likely issue an Exchange of Information Form to each driver. This form will contain fields for a driver's:
Name
Address
Phone number
Drivers' license number
License plate number
Vehicle make, model, year and color
Insurance company.
When you file a claim with your insurance company for repairs, a police report will make it easier to prove that your vehicle sustained the damage that you claim. Also, if the other driver makes an erroneous or false damage claim against you, then your insurance company can more easily deny the claim by pointing to the police report.
Should You Report Your Accident to Your Own Insurance Company?
All insurance companies require policyholders to file an accident report – even if the collision results in no injuries and only minor damage. While it may be tempting to seek a private arrangement with the other driver involved to get compensated for vehicle repairs, this is not always the best idea. You really want to go through insurance to resolve matters.
Even low-speed crash damage can ultimately prove to be costly. Also, you don't know the other person. He or she may seem to be trustworthy and genuinely interested in doing the right thing. However, that person may ultimately decide not to reimburse you for anything.
If you exchange information with the other driver but don't report the accident, your insurance company could refuse to cover the damages if you need to file a claim down the road. Because you didn't report it immediately, the insurer will be unable to tell when the damage actually occurred. You may end up being forced to pay out of pocket for those repairs.
Our Virginia Car Accident Attorneys Are Here for You
For more than a century, Marks & Harrison has proudly served injury victims and their families across the state of Virginia, providing quality legal representation when they need it most. If you have been involved in a car accident, even a minor one, and you need to speak with an attorney, don't hesitate to reach out to us by phone or through our online contact form. Our initial consultations are free and carry no obligations.