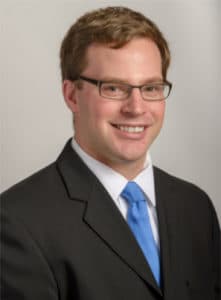 As an undergraduate at Miami University in Oxford, Ohio, Brad Kent knew that he wanted to become a trial lawyer. He joined the school's Mock Trial Program, which provided interested students the opportunity to learn how to try a case, from opening statements to cross-examinations to closing arguments. The die was quickly cast.
"Exposure to mock trial solidified my interest in the law," Brad recalls. "I knew that's what I wanted to do."
Brad has never wavered from that goal. After he graduated from Miami University in 2012 with a double major in Political Science and History, he enrolled at the University of Richmond School of Law. Three years later, he received his J.D. and joined Marks & Harrison, where he had worked as a law clerk for more than a year.
As a member of our legal team, Brad has devoted his practice solely to personal injury law. It provides him the opportunity to do what he likes most as a lawyer – trying cases in a competitive environment.
"I love getting into the courtroom, going face-to-face with opposing counsel and persuading seven to 12 people that my client's case is important," he says. "We don't have gladiatorial events anymore. So, I think going toe-to-toe with somebody in a courtroom is the closest thing you have to facing off against the lions."
However, Brad is quick to point out that there is an even greater reason he loves his work.
"It's also just giving the client the opportunity to be heard," he says. For many, dealing with insurance companies is stressful and can seem one-sided in favor of the insurance company. "They want to have a chance to tell their story, to be able to have their case heard on a level playing field with these large national companies."