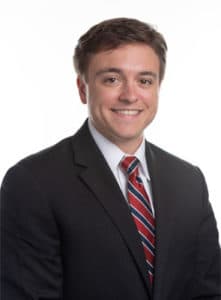 Growing up in Richmond, West Smithers had little interest in becoming a lawyer. Both of his parents were attorneys, and West thought he wanted to pursue a different kind of career—perhaps in psychology. However, as an undergraduate at Randolph-Macon College, he took an internship his junior year in the office of The Honorable J. Overton Harris in Hanover County Circuit Court. The experience changed his life.
"It really piqued my interest in law and, particularly, in litigation and trial law," West recalls. "I wanted to do something stimulating that would let me feel like I was making a difference in people's lives."
After he received his undergraduate degree in Political Science, West headed straight for law school. At first, he attended Catholic University School of Law in Washington, D.C. However, he longed to return to his native Virginia. He transferred to the University of Richmond for his final two years and earned his degree in 2017.
During law school, West served as manuscripts editor on the Richmond Journal of Law and Technology. He also participated in the Street Law Program, which involved visiting schools and teaching students about the law.
However, the law school experience he enjoyed most was working in the Commonwealth Prosecutor's Office in Hanover County during his third year. He was able to prosecute cases in court—an experience that strengthened his resolve to become a trial lawyer.
West joined Marks & Harrison in June 2018. He works alongside attorney Ryan Walker in our firm's Chesterfield office and with attorney Lee Bujakowski in our Hopewell office. Much of his work involves handling client intake and conducting interviews. He also drafts motions and pleadings, and he negotiates with insurance companies on behalf of our clients.
Most of all, he enjoys going to court.
"I enjoy being challenged and not knowing what's going to happen," he says. "And I enjoy the aspect of rolling with the punches and thinking on your feet."
Away from the office, West likes to pursue his lifelong interest in music. He was in singing groups during high school and college, and he still occasionally performs at open mic events. He also enjoys hiking and backpacking.