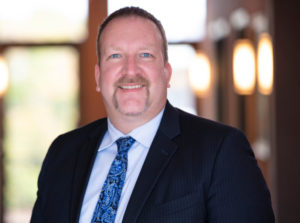 For John D. Ayers, being an attorney at Marks & Harrison is part of a lifelong dream.
"I have wanted to be a lawyer my entire life," he says. "If you ask my kids what I do, they'll say, 'Dad's a lawyer. He likes to help people.'"
Ayers grew up in Ashland, Virginia, where he still lives. He earned his bachelor of science in history and political science at Virginia Polytechnic and State University in Blacksburg in 2000. In 2003, he obtained his law degree at the University of Richmond School of Law.
After graduation, Ayers represented doctors in medical malpractice cases for a Virginia law firm, but he soon found his calling at Marks & Harrison, representing plaintiffs in personal injury cases. In one memorable case, he stood up for a Marine with a back injury after an intoxicated agent from the Virginia Alcoholic Beverage Control Authority rear-ended him at a stoplight.
The state regulatory agency's code of conduct allowed agents to drink during undercover and investigative operations. The agent's blood-alcohol level was 0.14 percent – nearly twice the legal limit. He pleaded guilty to DUI and lost his job.
Dissatisfied with the outcome, the Marine hired Ayers for a civil lawsuit. "My guy got hit by a drunk police officer, and nobody wanted to pay his medical bills or property damage," Ayers says.
A jury eventually ordered the state to pay the Marine $70,000 in damages, news reports say.
Ayers left the firm in 2016 to serve as the general counsel for the Virginia Trial Lawyers Association, lobbying the General Assembly on behalf of personal injury attorneys and their clients. But he prefers to interact with clients, so he returned to Marks & Harrison in 2021.
When not in court, Ayers enjoys spending time with his wife and three daughters. But he also has a passion for education. He's made several continuing legal education (CLE) presentations for the National Business Institute and other authorities related to preparing personal injury cases and handling settlements.
Although he focuses his practice on auto accidents, Ayers says what matters most to him is connecting with people in need of support.
"I'm very approachable. I'll explain things so you'll understand them," he says. "To me, it's just helping people."