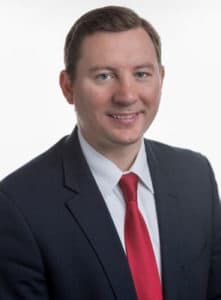 When Dustin Rosser joined Marks & Harrison in early 2018, he brought an invaluable body of experience with him. For eight years, he practiced law in a firm that defended insurance companies against claims brought by injured plaintiffs. In joining Marks & Harrison, he has crossed over to represent those injured plaintiffs against the insurance companies.
"I know the inner workings of insurance companies," Dustin says. "I know how they think and why they do what they do."
Working on the defense side, Rosser litigated more than 100 cases in general court, with more than 20 jury trials. On occasion, the opposing counsel were lawyers from Marks & Harrison. When an opportunity came to join the law firm, he jumped at the chance.
"I tried cases against their attorneys and knew their reputation," he says.
While being a defense lawyer was fulfilling in its own way, Dustin says, it can't match working on behalf of real people.
"I like that I get to help people who actually need help and who need someone to go into court and fight for them," he says. "I like fighting for my clients, and I like winning for my clients."
Dustin is a native of Lynchburg, where his mother owns and operates a seafood restaurant, and his wife's family owns an ACE hardware store. He received a B.A. in Political Science and Government from N.C. State University in 2005, and he earned his law degree three years later at New England School of Law in Boston.
Knowing that he wanted to be a trial attorney, Dustin did an internship in the Suffolk County District Attorney's office in Boston for a summer. He also went through a summer internship in the U.S. Attorney's Office in Tampa.
Although Dustin loved Boston, he found the winters to be too harsh. He decided to come back to his home state to pursue his legal career and put down his roots. In his free time, he enjoys golfing. He is also a huge football fan who loves watching the N.C. State Wolfpack and Washington Redskins.