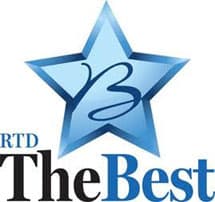 Voters picked Marks & Harrison as the top law firm in Richmond in a recent contest held by the Richmond Times-Dispatch newspaper.
The "RTD The Best" contest, which is aimed at identifying the most popular local businesses, began in the summer. Nearly 5,000 people submitted more than 16,000 nominations to the newspaper.
Out of those nominations, the top five businesses in each category were chosen for voting. The online voting took place from August 9-24.
Marks & Harrison was picked as one of the five nominees in the "Best Law Firm" category and went on to receive the highest number of votes.
The newspaper announced the winners of the contest on October 11.
We thank everyone who voted for us. We are truly honored and inspired by this recognition.