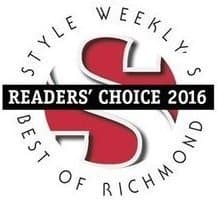 Richmond, Va. (June 2, 2016) – Marks & Harrison, a Virginia-based personal injury law firm, is proud to announce that it received top honors in the "Best Lawyer" category in Style Weekly's 2016 Best of Richmond issue.
Winners were chosen based on reader votes from Feb 1-March 13. Thousands of ballots were cast anonymously during the voting period. The poll was open to anyone with access to the internet, and promoted through Style Weekly, worth of mouth and various outlets. The Best of Richmond issue features readers' top choices in dining, business, shopping and entertainment.
"We've been helping clients and families throughout Virginia for more than 100 years," firm partner John Shea said. "We're proud of this designation from Style Weekly and its readers, and believe it speaks to the commitment we make every day to helping protect the rights of the injured."
Marks & Harrison has 19 attorneys working in nine offices across the state. For more information, please visit www.marksandharrison.com.
***
About Marks & Harrison:
Marks & Harrison was founded in 1911 and has nine locations across Virginia. Marks & Harrison provides comprehensive legal services in personal injury, workers' compensation, and social security disability cases. For more information about Marks & Harrison, go to www.marksandharrison.com or visit the Firm's Facebook page.