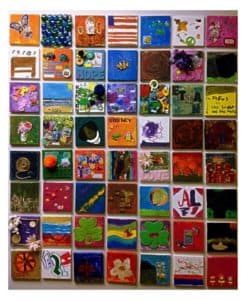 For kids in Concept ARTISM's classes, art isn't just some pretty painting on the wall; it's a powerful form of self-expression.
Launched this year, Concept ARTISM provides free art classes for families touched by autism that encourage self-discovery and most of all, fun. Marks & Harrison is proud to support the program by providing art supplies.
"One of the things that makes Concept ARTISM special is the environment. It's not a 'classroom'," said  founder Kristen Konate. "The children are in a calming environment  full of creativity and have the opportunity to visit the numerous art studios and galleries and meet the artists who work there. It's very casual and their individual creativity is their only limit. The smiles each week let us know that we're on the right track."
Concept ARTISM holds classes every Saturday at Artworks in Richmond's Manchester district. To get in touch, or to find out more info visit their Facebook page.
Artworks is open Tuesday through Sunday from 12-6 p.m.