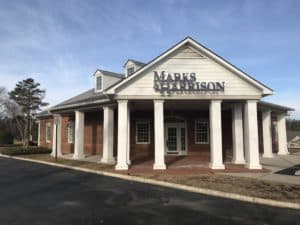 Richmond, Va. (Jan. 8, 2018) – Personal injury law firm Marks & Harrison is expanding its presence in Virginia with a new office in Chesterfield County. The new 3,798 square-foot office is located off Hull Street at 15001 Dogwood Villas Drive.
Marks & Harrison has served the Richmond area since 1911, when it was founded by David A. Harrison, Jr. Today, the firm handles personal injury, workers' compensation and  social security disability cases.
Attorney Ryan T. Walker will manage the office. Walker joined Marks & Harrison in 2014. Before that, he worked for a national insurance company on the defense side of personal injury cases. He is a Chesterfield native.
"The new office will be more convenient and accessible for our clients south of the river," said Walker. "We're looking forward to continuing our tradition of excellence in representing clients in Chesterfield and beyond."
The office can be reached at 804-662-5882 or by visiting https://www.marksandharrison.com/contact-us/.