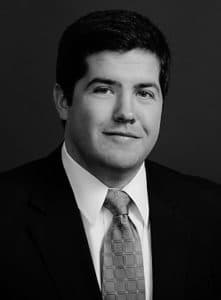 Marks & Harrison Associate Attorney Joel R. McClellan has shared what he's learned in his first year as a personal injury lawyer with a prestigious online legal journal.
The bottom line of McClellan's "10 Things I Learned My 1st Year Representing Hurt People" is to be open to others' experience, whether they are colleagues or clients.
McClellan opens his "10 Things" with a note of humility that is reflected throughout the essay. "When I was in law school, my classmates and I did not ask many questions; but I am asking plenty of questions now," he writes. "Every young attorney should swallow his or her pride and ask colleagues questions."
McClellan is a Richmond native who joined Marks & Harrison in 2013 after graduating cum laude from Valparaiso University School of Law in Valparaiso, Indiana.
In addition to "Ask questions," he advises fellow attorneys:
Observe others
Manage staff
Listen to clients
Quantity does not always mean quality
Communicate with clients
Get trial experience
Share experiences with other young attorneys
Know when you are in over your head
Make clients happy.
"Perhaps the most important thing I have learned in my first year practicing law is that we are not alone," McClellan says. "Not only do we have others around us who can assist and advise us, but what we do as plaintiffs' lawyers has a great effect on others.
"I hope I always remember to ask about what I don't know, share what I do know and use my skills to help my clients, my colleagues and my community."
McClellan's 1,150-word essay appears in the Motor Vehicle Collision, Highway, and Premises Liability newsletter and website section of the American Association for Justice.
The American Association for Justice, formerly the Association of Trial Lawyers of America, is the world's largest trial bar, providing trial attorneys with information, professional support and a nationwide network that enables members to effectively and expertly represent clients.
The AAJ supports the work of personal injury attorneys like ours at Marks & Harrison in their efforts to ensure that any person who is injured by the misconduct or negligence of others can obtain justice in America's courtrooms, even when taking on the most powerful interests.
Marks & Harrison focuses its practice on personal injury, workers' compensation, and Social Security Disability matters in the Richmond area and throughout Virginia. The firm has represented thousands of injured victims in all types of claims. Joel R. McClellan is one of 18 professionals with our firm.