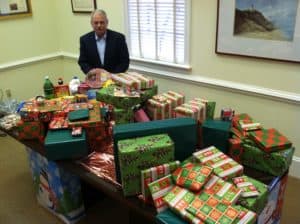 Your office may have a "casual Friday" policy, but at the offices of Marks & Harrison, our employees pony up for the pleasure of dressing down and use the money to spread holiday cheer.
It costs us $3 every other week to ditch a suit and tie for jeans and flats each Friday. For the price of a cup of coffee, staff members who participate know that their day of comfortable clothing is helping to spread some comfort, too.
This past holiday season, in our fourth year, "Casual for a Cause" proceeds enabled our office to provide gifts and meals to families throughout the Commonwealth.
Casual for a Cause, which is an approach to giving adopted by many organizations, is our yearlong effort for the holidays. In the past, we have also supported the Charlottesville Free Clinic by donating catered meals for volunteers, as well as the Legal Information Network for Cancer (LINC), a non-profit, community-based organization dedicated to helping people with legal issues that arise from the diagnosis and treatment of cancer.
Last August, we were proud to renew our sponsorship of the WE CARE Festival in Richmond. One of the largest events in Northside, WE CARE – Wellness, Education, Community Awareness and Resident Empowerment – brings together community organizations, churches and businesses to empower the community. The free event includes a health and wellness fair, a financial-literacy-focused basketball competition, a book bag giveaway and other family-friendly activities.
At RivahFest in Tappahannock last June, volunteers from Marks & Harrison helped families fill out child identification kits as part of the festival, which included live music, antiques and several other family-friendly activities.
Each year, we also present the Marks & Harrison Scholarship to a law student at the University of Richmond School of Law who is interested in a career in personal injury law.
We're proud that we can give back to the community in these and other ways, and we enjoy it.
If your office goes casual on Fridays, talk about adding a cause that you care about.