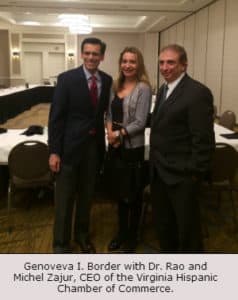 Genoveva I. Border attended a Leadership Roundtable with Dr. Michael Rao, President of Virginia Commonwealth University (VCU) on Tuesday morning.
Dr. Rao invited leaders from the Latino community in Richmond to learn more about the Latino community and to establish synergies and outreach projects.
Genoveva I. Border proudly spoke about Mark & Harrison's commitment to representing injured people in Virginia.
She also pointed out that many of Mark & Harrison's injured Latino clients receive high quality healthcare from Virginia Commonwealth University, regardless of their situation.
Dr. Rao emphasized VCU's commitment to providing healthcare to anyone who attends VCU no matter what their personal situation is. Dr. Rao also expressed his support for legislative changes such as Medicaid expansion. He said Latinos carry out dangerous jobs that not many people are willing to do.  While doing those jobs, some Latinos get hurt and it is only right to provide them with medical care as they put their lives at risk, a risk that not many are willing to take.
Dr. Rao speaks Spanish as he studied in Florida and worked and lived in California.