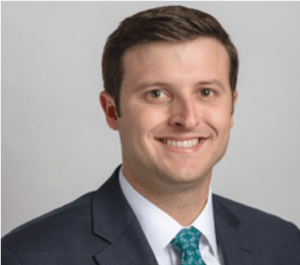 Charles W. Davis, Jr., who heads Marks & Harrison's Tappahannock office, is a hometown guy. After joining the firm's Richmond office in 2013, he headed back to his home turf in early 2017 to put down roots anew.
A graduate of Essex High School in Tappahannock, C.W. went to the University of Virginia, where he double-majored in politics and sociology, and the University of Richmond School of Law where he got a J.D. He started clerking for Marks & Harrison after his second year of law school and, after receiving his law degree, joined the firm full time in 2013.
Back in Tappahannock, Charles is continuing to concentrate his practice on personal-injury cases—and bringing a personal touch to his work on behalf of clients.
"I really enjoy talking to clients," he says. "People come to you when they're down in the dumps, they're scared, and they don't know what to do. Being able to talk to them, ease their mind and let them know you're going to fight for them and do everything you can do, makes them feel a lot better."
He also enjoys the variety of being a plaintiff's personal-injury lawyer.
"Every case is different," he says. "You deal with people from so many different walks of life. It keeps you on your toes and it's interesting."
Not long after beginning his practice in Tappahannock, Charles recorded his first six-figure settlement on behalf of a veteran who was injured while driving a moped. He's looking forward to more such successes and relishing the idea of getting into court to try more cases.
"I'm a competitive guy," he says. "I hate to lose."