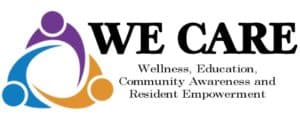 Marks & Harrison was proud to once again sponsor the 10th annual WE CARE Festival on Saturday, August 27, 2016. WE CARE is a festival that highlights wellness, education, community awareness, and resident empowerment in the community.
The WE CARE festival was held at Hotchkiss Community Center in the Northside of Richmond. Marks & Harrison handed out free books to children and adults. Paralegal Kathleen Moore and her family receive hundreds of book donations each year in order to supply books for this event. This year, children were allowed to take as many books as they desired home with them.
Other highlights from the event included free haircuts for kids, blood pressure screening, free book bags, food, music and more.