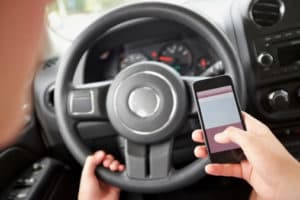 Texting and driving is well established as being an extremely dangerous activity. The practice is illegal, but there are still high numbers of car accidents that are caused by drivers who have chosen to put other lives at risk by texting and driving.
Currently, law enforcement does not have a simple method to identify texting drivers. One Virginia company hopes to change that.
As reported by PilotOnline.com, the company has a device similar to a speed radar gun in the works that will assist officers in detecting texting drivers. The company, ComSonics, currently supplies calibration services to law enforcement for speed detection equipment. ComSonics is poised to advance into the field of texting-driver detection.
According to a company representative, the new radar-type guns will be able to distinguish the difference between cell phones that are being used for talk and those being used to text or send other forms of electronic information. Officers will simply have to point the radar gun towards a passing vehicle to determine if the driver is texting while driving.
This new device is expected to be extremely beneficial to law enforcement. In Virginia, the law allows cellphone use for talking while behind the wheel, but texting and driving is illegal.
The texting radar gun devices are not yet ready to go into production. Certain obstacles will need to be overcome prior to entering the market, but the anticipated benefits of the device are already being heavily touted.
Texting While Driving Laws in Virginia
During the first half of 2013, the Virginia General Assembly passed a law making texting while driving illegal. Prior to the new law being put in place, texting while driving was a secondary offense. This meant that a driver could only be charged with texting while driving if he or she was pulled over for another violation. At that time, texting while driving was a $20 fine. Now that texting while driving is a primary offense, drivers can be pulled over and charged if they are caught texting while driving.
First time offenders face a $125 fine, and subsequent offenders can be fined up to $250. In cases where a driver causes an injury or wrongful death as a result of texting while driving, additional and far more serious charges and penalties may be imposed. More than 700 texting while driving convictions were recorded during the first six months after the new law took effect.
Impact of Texting While Driving Radar Detectors on Personal Injury Accidents
Distracted driving is one of the most common causes of motor vehicle accidents and vehicle-related wrongful deaths. A research study conducted by the Virginia Tech Transportation Institute found that text messaging while driving increases the risk of a driver being involved in a collision by 23 times over drivers who are distraction-free.
While results are not yet available, if these new texting while driving radar guns can truly detect drivers engaged in the activity, it could have a dramatic impact on the number of car and other vehicle accidents caused by texting drivers. Many innocent lives could be saved.
If you are the victim of a texting while driving accident, call Marks & Harrison now to speak with a Richmond personal injury attorney.