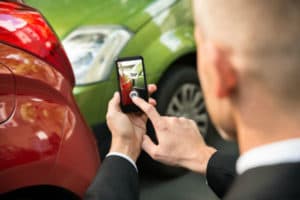 Car crashes can happen in the blink of an eye. One minute you are driving down the road, headed home or off to work or school, and the next you hear the honking of horns, the screeching of tires, the sound of breaking glass. In that moment, your life can be changed forever.
Unfortunately, even relatively minor car accidents can result in serious and potentially disabling injuries. In the immediate aftermath, it is not uncommon to be in a state of shock and to not comprehend the severity of what just happened or the extent of the damage done. At the same time, the actions you take during these moments can have a major impact when it comes to seeking compensation for the damages you have suffered. If possible, it is vitally important to take photos of yourself, your car, and the accident scene, as they provide valuable evidence that can be used later in an insurance claim or when filing a personal injury lawsuit.
How Photos Help When Dealing With Insurance Companies
According to research conducted by the American Association of Justice, insurance companies make billions of dollars off consumer premiums each year, and their CEOs are among the best paid in any industry. Despite their already considerable holdings, one of the ways these companies increase their overall profits is by undervaluing or denying accident claims.
If you are involved in an accident in which another driver is at fault, you are entitled to compensation from their insurer. Ways in which the insurance company may try to avoid paying include:
Trying to blame you for the accident, or showing you were at least partly responsible, which can eliminate their liability;
Undervaluing the cost to repair or replace your vehicle;
Disputing your injuries, and failing to include any future medical expenses and lost wages you are likely to incur.
When dealing with insurance companies, the more evidence you have in support of your claim, the better your chances are of getting compensation. Taking photographs at the accident scene provides a crucial piece of evidence that the insurance company cannot dispute. In the event the insurer continues to deny your claim, or if the other driver was under or uninsured, the pictures you take can provide valuable evidence in a personal injury lawsuit as well.
How Photos Give Clues On How Car Accidents Occur
The Virginia Department of Motor Vehicles reports that more than 60,000 drivers were injured in car accidents in the state in 2015, while more than 700 died as the result of their injuries. The most common causes of these accidents include driving under the influence, speeding or going too fast for conditions, aggressive driving behaviors, such as tailgating or failing to yield, and distracted driving, including using cellphones or texting.
Photographs you take at the scene of your car accident not only provide evidence to use with the insurance company of the damage your vehicle sustained, but can provide valuable clues as to the causes of your accident and how it occurred. You may be able to show you were rear ended at a stop light, or how you were hit on the driver's side while the other driver was attempting to pass. Skids marks on the road may show how the other driver was speeding or distracted and had to slam on their breaks, while the presence of cans of beer or bottles of liquor in or around the other vehicle can be used to prove the other driver was under the influence. Tips for taking photographs of vehicles at the accident scene include:
Take photos of the front, back, and sides of each vehicle, making note of where damage occurred;
Use a point of reference to indicate scale for any dents you photograph, such as your finger or a pen;
Capture skid marks, dented guardrails, and overturned street signs to show speed and the force of impact;
Take photos of the highway and any landmarks to show exactly where the impact occurred, and the distance your car was pushed as a result.
Documenting Your Injuries
Along with documenting the damages your vehicle sustained, you should also be sure to take photographs at the scene of your accident of the injuries you suffered. Pictures of bruises, cuts, lacerations, and burns as well as blood stains in your vehicle provide crucial evidence in substantiating not only your injuries, but the emotional trauma involved in your accident. In addition to taking photos immediately after your accident, you should continue to take pictures of your injuries and the treatment you receive in the days, weeks, and months to come. Even seemingly minor bumps and bruises can have long ranging impacts on your overall health.
The National Highway Traffic Safety Administration (NHTSA) reports that car accident injury costs can run anywhere between $20,000 and $200,000 depending on the type and severity of the wound. Aside from your original hospital emergency room and treatment costs, you may require ongoing care and physical rehabilitation, both now and in the years to come. Before making a settlement with the insurance company or claiming damages in a personal injury lawsuit, you want a basic idea of any future needs you may require. Be sure to document any scarring or disfigurement your injuries cause, and take photographs in good light and from various angles, using objects such as a quarter or an orange to give a sense of scale.
Contact Us for Professional Help
If you are injured as the result of a car accident, contact Marks & Harrison to get the professional legal representation you need before making any statements to an insurance company or accepting any settlements. You can trust our Virginia car accident attorneys to handle the complicated details surrounding your claim, while you focus on your recovery. We have nine office to serve you in Richmond and throughout the surrounding areas; call or contact us online today to request a free consultation to see how we can help you.