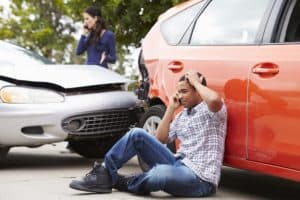 Do you think the rise in ridesharing services in Virginia and throughout the country has made our roads safer? Guess again. In a recently published study, researchers from Rice University and the University of Chicago found that fatal car accidents have actually increased in our country by around 2-3 percent since the arrival of ridesharing services such as Uber and Lyft.
If you are injured as another driver or as a passenger in a collision that an Uber or Lyft driver causes, you may be unsure about who will be responsible for covering your damages – the driver or the ridesharing company? Here, we provide an overview of how liability works in these unique car accidents.
If you or a loved one recently suffered injuries in a ridesharing accident in Virginia, you should contact Marks & Harrison as soon as possible and allow an experienced personal injury attorney to review the specific facts and issues in your case. We can provide a free consultation through one of our 10 offices located throughout the state.
Your Options If an Uber or Lyft Driver Hits Your Vehicle
When an Uber or Lyft driver acts negligently and causes a collision with your vehicle, the driver or ridesharing company may be on the hook for your damages – or, in some cases, both. It will depend on which one of three stages the driver was in at the time of the crash:
Stage One – App off
If the ridesharing driver's app is off, and the driver is not "logged in" and accepting rides, then the driver's own auto insurance liability policy will have to cover your losses. After all, the driver is conducting his or her own personal business, and there is no reason why Uber or Lyft should be held liable. If the driver has insufficient insurance – or no insurance at all – then you may need to turn to your own uninsured/underinsured motorist (UM/UIM) coverage (if you have this insurance).
Stage Two – App on, waiting for a ride request
In the past, neither Uber nor Lyft provided any liability insurance coverage to drivers during this stage – when a driver is logged into the app and waiting for a ride request. Today, the companies provide a limited amount of coverage. Uber states it will insure its drivers in the amounts of:
$25,000 per person for bodily injury
$50,000 per accident for bodily injury
$25,000 per accident for property damage.
Lyft states that it will provide "contingent" coverage in those same amounts. In other words, the driver's personal insurance will be the primary source of coverage. Lyft's insurance will cover what the driver's insurance does not cover – up to those 25/50/25 limits. (If a driver uses his or her car for commercial purposes like ridesharing, then it is possible that the driver's personal insurance will exclude coverage – unless the driver has bought a policy with a ridesharing endorsement.)
Stage Three – Picking up or transporting a rider
Finally, if a driver responds to a ride request and goes to pick up a rider, or if the driver is actually in the process of transporting a rider, the ridesharing company will be responsible for paying any damages that the driver causes. Uber has liability coverage of "at least" $1 million per accident, while Lyft has coverage with a $1 million limit.
Your Options If You Are a Passenger Hurt in a Rideshare Accident
When you are a passenger who suffers injury in a ridesharing accident, responsibility for your damages will attach to whoever was at fault – the ridesharing driver or another driver. For instance, if the Uber or Lyft driver caused the crash and your injuries, then responsibility for your damages would attach to one of those companies. As we stated above, Uber provides "at least" $1 million in liability coverage, while Lyft has a $1 million per accident limit.
If another driver caused your Uber or Lyft accident, then you would bring a claim against that driver. You would seek a recovery of damages through that driver's liability insurance. If the driver's insurance fails to fully cover your damages, or if the driver has no insurance at all, both Uber and Lyft provide UM/UIM coverage. For instance, Uber provides at least $1 million in UM/UIM.
What Should You Do If You Are Injured in a Lyft Crash?
If you are injured as another driver or as a passenger in a crash involving an Uber, Lyft or other ridesharing service driver, you should take a few basic steps to protect your health and your legal rights. Those steps include:
Call for police. If you cannot personally call 911, ask someone else to do it. You want to make sure that police arrive to secure the crash scene, investigate the accident and eventually file a crash report.
Get medical attention. You should see a doctor as soon as possible so you can be checked for injuries and started on a course of treatment. Seeing a doctor will also document your injuries, which will be important for purposes of any insurance claim or lawsuit that you pursue.
Report it to the ridesharing company. You should notify the ridesharing service in writing about your accident and injuries. The ridesharing company should then notify its insurer. Marks & Harrison can help you to give this notice.
Notify your own insurer. Your own auto insurance provider may require you to report your accident, regardless of who was at fault. You should make sure to comply with this requirement. It will protect your rights if you need to file a claim with your own insurer down the road.
Talk to a lawyer first. If the insurance company for the rideshare driver, Uber or Lyft contacts you, the best practice will be to refer the insurer to your lawyer at Marks & Harrison. As a general rule, you should refrain from giving any recorded statements or accepting settlement offers before you talk with your lawyer first.
Our Virginia Uber Accident Attorneys Can Help You
Don't wait to take action after an Uber or Lyft accident. Contact the experienced car accident attorneys at Marks & Harrison today for a free consultation. We can put the resources of one of Virginia's largest personal injury law firms on your side and aggressively pursue all compensation that you are due.