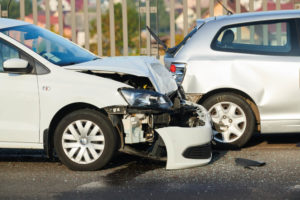 Blind spot accidents are some of the most common car accidents in Virginia and across the United States. Drivers often try to merge or shift lanes without checking their blind spots, resulting in collisions with vehicles that didn't appear in their mirrors.
Blind spot accidents can result in expensive medical bills, car repairs, missed time from work, and more. If you've been hit by a driver who wasn't paying attention, you shouldn't be left to pay for their mistakes. Contact Marks & Harrison now for a free consultation.
Where Are Blind Spots When Driving?
All cars have blind spots. These are spots around the vehicle that do not appear in any of the car's mirrors. This means a driver cannot see them without specifically turning to look in that direction. In most cars, blind spots are located behind the rear taillights on both the driver's and passenger's side of the vehicle. The longer a vehicle is, the larger the blinds spots will be in these far back corners.
How to Check Your Blind Spot
It is important to remain continually aware of any vehicles that enter your blind spot. Good use of your mirrors, as well as proper checks, will help minimize your risk of a blind spot accident.
To protect your own and others' safety before you even hit the road, start by adjusting your mirrors to optimal road-viewing positions. Even though you won't be able to entirely eliminate the blind spots, you can make them as small as possible by carefully positioning all of your mirrors.
First, adjust the interior rearview mirror so that it shows a centered view of the entire back window. Then, make sure that your side mirrors show only a sliver of your car from your perspective in the driver's seat. These mirrors should capture a small bit of the car so you don't miss objects hugging the side of your vehicle, but they should predominantly show the road.
Once your mirrors are properly positioned, make sure to check each of them often while driving. Especially on the highway or interstate, road configurations can change very quickly. Frequent and diligent checking of your mirrors will help you maintain awareness of the vehicles around you.
Even with such deliberate mirror-checking, it is possible for a car to sneak into your blind spot without you noticing. For this reason, you should always check your blind spot before merging into traffic or changing lanes. To check your blind spot, quickly glance out of your back-side window before entering a new lane of traffic. Your blind spot check should be very brief, so you don't take your eyes off the road ahead of you for too long, and you should execute it only after checking all of your mirrors.
How to Avoid Driving in Other People's Blind Spots
It is best to avoid driving in other people's blind spots whenever possible. The first and most important step to avoiding driving in blinds spots is simply understanding where these blind spots are. If you know where another car's blind spot is likely to be – in both back corners of a vehicle – then you can make sure that you do not linger in this area. Keep in mind that larger vehicles, such as semi-trucks, will have larger blind spots for you to avoid and will additionally have blind spots in front of and behind their vehicles.
In some instances of heavy traffic, you may be forced into a car's blind spot. Even so, try to minimize the time that you spend in these spots. When you see an opportunity to move up, back, or into a less congested lane, take it.
How Is Fault Determined in a Blind Spot Accident?
A thorough investigation will determine who is at fault in a blind spot accident. This investigation may include an examination of the vehicles involved, photos and video from the scene, witness testimony, and accident reconstruction analysis. These types of investigations require resources and knowledge. Our skilled car accident lawyers can work quickly to investigate your crash and determine all potential liable parties.
What to Do If You Are in a Blind Spot Accident
If you are in a blind spot accident, there are steps you can take to protect yourself as well as others on the scene. Here is what you should do following this type of accident:
Call 911 to file a police report and get medical attention. Ask for medical assistance for any serious visible injuries on the scene. When the police arrive, fill them in on the details of the accident. Ask for a copy of the police report.
Take down the other driver's information. Make sure to record the person's insurance information as well as contact info, driver's license, and license plate number.
Take photos and get contact information for any witnesses on the scene. The more detailed and varied your photos are, the better. Your lawyer can also follow up with the witnesses to document what they saw.
Follow your doctor's orders. Save all paperwork related to your treatment, as well.
Call a blind spot accident attorney. An attorney can get to work gathering evidence before it is lost or destroyed.
Contact a Blind Spot Accident Lawyer Today
If you have been injured in a blind spot accident in Virginia, you should not have to pay the price of another driver's negligence. An experienced blind spot accident lawyer from Marks & Harrison can help you demand maximum compensation for your losses.
Our dedicated car accident attorneys can guide you through the process and take the stress off you. To get started, contact us now to schedule your free consultation. We do not charge any fees upfront, and you only pay us if we recover compensation for you.