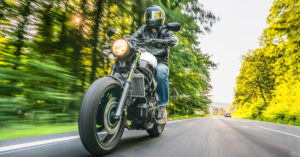 For many motorcyclists, being on their bike with the open road ahead of them is what it's all about. Stretching from the Atlantic to the Appalachians, Virginia offers scenic and diverse rides for solo bikers or groups of motorcyclists. Here are 5 of our favorite Virginia motorcycle routes.
1. Skyline Drive, Shenandoah National Park
There's not much that tops this 105-mile ride along the spine of Virginia's Blue Ridge Mountains overlooking the Shenandoah Valley. Once you've made the scenic ride from Front Royal south to Waynesboro, you can connect seamlessly to 216 miles of the Blue Ridge Parkway in Virginia. Ride Skyline Drive to catch cooler temps in the summer, when colors are popping in the fall or anytime you need to get away. Shenandoah National Park's Skyland and Big Meadows recreation areas offer gas, food and lodging just off Skyline Drive, and there are two more waysides in the park with dining, plus about 75 overlooks and hikes of varying lengths and difficulty to waterfalls, historic sites and other points of interest.
2. Chesapeake Bay Bridge-Tunnel
On the other side of the state, the Chesapeake Bay-Bridge Tunnel offers a completely different motorcycling experience. This 17.6-mile engineering wonder connects the Virginia mainland at Virginia Beach near Norfolk with Virginia's Eastern Shore near Cape Charles. Two mile-long tunnels interrupt bridges spanning the bay from up to 200 feet above the water on this 30-minute ride. There's also a restaurant over the water and three more islands available for stopping and enjoying the scenery. Keep in mind that it's a toll road ($18 peak season plus $2 for a return within 24 hours) and that high winds over the bay can make the trip inadvisable on a motorcycle. It's been called the scariest bridge in America!
3. 'The Back of the Dragon' – VA State Route 16
This 32-mile mountain road ride gets you into the real feel of the Virginia mountains between Marion and Tazwell as you lean into the ups, downs and curves of the 430 switchbacks, slaloms and hairpin turns. As you might expect, the scenery spanning the three mountains covered during this ride peaks during fall foliage season. In addition to local restaurants, bars and breweries, VA 16 cuts through Hungry Mother State Park just north of Marion if you need a reason to stop and explore further.
4. George Washington Memorial Parkway
This 25-mile scenic road along the Potomac River is the best way to make the transition from Northern Virginia to Washington, D.C. The scenic views of the Potomac and lush woodlands between Mount Vernon and the I-495 beltway at Turkey Run Park include 25 historic sites and wildlife preserves, and Arlington Memorial Bridge and Avenue, the ceremonial entrance to Washington from Virginia. Though this National Parks property was designed for recreational driving, its multiple stops provide their own Northern Virginia scenic and historic tour itinerary.
5. Nickel & Dime Drive
Taking VA Route 5 from Richmond to Williamsburg and then, after taking Route 31 through Jamestown and across the James River, returning to the capital via Route 10 is known as the "Nickel & Dime Drive." The 3.5-hour loop is a country drive past more than two dozen Civil War sites as well as the homes of three former U.S. Presidents. The route is also known for its heavy bald eagle population.
What To Do If You have Been In a Motorcycle Accident
Even on a leisurely motorcycle ride, things can go wrong and accidents can happen. Our experience as Virginia motorcycle accident attorneys has taught us that a motorcycle accident is likely to have been caused by a motorist who failed to see a motorcyclist, violated the motorcyclist's right of way or rear-ended the bike.
If you have been in a motorcycle accident, there are 5 steps you need to take to protect your eligibility to seek compensation in an accident claim:
Document the crash. If you are able, get photos of the vehicle and your bike, your injuries, and the accident scene. Get contact and insurance information from the motorist (and provide yours) and get contact info for any witnesses. Report the accident to police and ask the responding officer about how to get a copy of the police report.
See a doctor. Phone 911 and summon an ambulance if you are severely injured (or anyone else is) and accept an ambulance ride to the hospital if advised to do so by the emergency responders. Otherwise, see a doctor within 24 hours. You need to be treated for injuries. Some injuries may be serious but may not be obvious right away except to a trained health care professional. Having treatment also documents for an insurance claim the fact that you were injured. Follow all doctors' orders.
Contact your insurance provider. Most insurance companies require policyholders to report any accident, regardless of who is at fault. Some have tight deadlines for doing so, so contact your insurer promptly. Be careful that you just report the facts. Insurers are looking for a reason to close a claim and avoid a payout. Never accept blame for an accident or downplay your injuries. Don't agree to sign anything presented by the other motorist's insurance company without consulting an attorney first.
Start an accident file. Begin saving receipts, correspondence, records of your absence from work, and any other records of your accident, injuries, medical care, medications and contact with insurance companies. Write down a description of the accident before details fade from memory. Make notes as you go through medical care and your recovery progresses – or as you go through setbacks – and record how your injury negatively impacts your life and daily activities. Do not put information about your accident and injuries on social media where it may be found and used against you.
Contact a personal injury attorney. An experienced motorcycle accident attorney can help you obtain compensation for your injuries and other losses. No one else involved with your accident will be concerned about whether you are compensated as you should be – not the insurance company, not the police, not the person at fault for the accident. But an attorney will assist you and has a professional ethical obligation to do as well for you as the facts and the law allow.
In Virginia, contact Marks & Harrison attorneys at law about a motorcycle accident that was someone else's fault. We will meet with you to review your legal options at no charge. If we can pursue a claim for you, we will not charge you for our services unless we recover compensation for you.