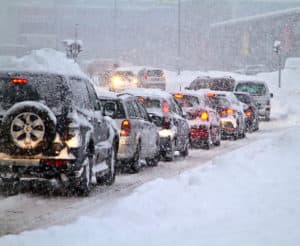 Yes, you heard the forecaster correctly, it has been predicted that Virginia will be getting some heavy precipitation tonight. In fact, meteorologists at the National Weather Service are predicting between 3-10 inches of snow and sleet across Virginia. Up in the North, Staunton is looking at 3-7 inches of snow, whereas most of the Eastern counties surrounding the Richmond-Metro area are expecting 5-9 inches. Tappahannock is expected to generate a whopping 6-10 inches of sleet and snow. That being said, wherever you reside, you should prepare.
Educate Yourself:

According to VDOT Commissioner, Charlie Kilpatrick, "Good Information is essential to your safety."  VDOT suggests monitoring the local weather reports and visiting 511virginia.org to stay     up to date on the latest road conditions. Don't forget to have a battery-powered radio handy to keep yourself updated during a power outage.  You can also contact Dominion for updates on power outages by calling 1-866-DOM-HELP. Or Check out their Facebook (https://www.facebook.com/dominionvirginiapower) and Twitter (https://twitter.com/DomVAPower).

Prioritize:

Ask yourself if it is really necessary to drive in the current conditions. Consider the risks and make an educated decision based on the current weather reports. VDOT suggests that if you do have to drive, keep your car stocked with blankets, food, water and an extra power source for your phone incase you become stranded.

Be Cautious on the Road:

Black ice can be almost invisible to drivers, and it can cause you to lose control of your car just as regular ice can. Always maintain a safe speed, even if you don't "see" ice. Be alert, out of ordinary weather can cause drivers to slow, stop or swerve unexpectedly. Always maintain a safe distance between yourself and other drivers so that you can be prepared to slow to a safe stop if the need arises.

Know the Law:

The Virginia Driver's Manual states that you should scrape any ice or snow from all surfaces of your vehicle before driving, including the roof, windows, mirrors and headlights. Snow and ice can fly off and cause vision impairment on the road. When driving on packed snow, you should always slow to a stop as opposed to hard braking to avoid loss of control. Lastly, always look out for ice on bridges and ramps, as they freeze faster than asphalt. Remember to move over into the other lane if you see a vehicle stopped on the side of the road, and don't forget- Buckle Up!

By educating yourself, prioritizing travel, practicing cautious driving practices and adhering to traffic laws, you can ensure that you and your family stay safe during travel during this winter storm.  Stay warm, folks- It's gonna be a cold one.