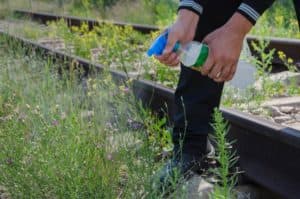 A jury in a California state court recently awarded a $289 million verdict to a 46-year-old man, Dewayne Johnson, who claimed that Monsanto's Roundup weed killer caused him to develop cancer.
According to Reuters, the case is the first one to go to trial out of an estimated 8,000 Roundup weed killer lawsuits which have been filed against Monsanto, and Bayer, which acquired the company in June 2018. Johnson filed his lawsuit in 2016, but it was fast-tracked due to his rapidly deteriorating health.
"This case is way bigger than me," Johnson told reporters after the August 10, 2018 verdict, the Associated Press (AP) reports. "I hope it gets the attention that it needs."
The jury in San Francisco Superior Court initially returned a verdict that included $39 million in compensatory damages and $250 million in punitive damages, according to the AP. However, NPR reports that, in October, a judge reduced the punitive damages award to $39.25 million, or a total verdict of roughly $78 million.
The product liability lawyers of Marks & Harrison currently are reviewing cases involving suspected cancer associated with exposure to Roundup weed killer. We have closely monitored this case as well as other Monsanto litigation taking place in other parts of the country.
While the California verdict is not binding on courts in other states, the outcome of the first Roundup lawsuit to go to trial shows there is sufficient scientific evidence for plaintiffs to meet the burden of proof and persuade juries to find in favor of cancer victims and their families.
Monsanto's Roundup Linked to Cancer Risk
Roundup is one of the most widely used agricultural products in the world. The Scientist reports that the product is registered in more than 130 countries and can be sprayed on more than 100 crops. It contains the active ingredient glyphosate, which is a synthetic chemical. It is commonly sprayed on gardens, lawns, golf courses and crops to kill weeds.
Monsanto, now a unit of Bayer AG, developed and first patented the use of glyphosate as a weed killer. It has been used as an herbicide since the 1970s. The use of glyphosate increased substantially after Monsanto developed Roundup Ready seeds that are genetically modified to tolerate being sprayed with glyphosate.
Are Glyphosate-Based Products Safe?
In 2015, the International Agency for Research on Cancer (IARC), which is the research arm of the World Health Organization, classified glyphosate as "probably carcinogenic to humans" based on scientific studies linking the chemical to non-Hodgkin's lymphoma (also known as non-Hodgkin lymphoma), including its subtypes:
Lymphocytic lymphoma
Chronic lymphocytic leukemia
B-cell lymphoma
Hairy cell leukemia.
After the IARC's action, California officials added glyphosate to the state's list of chemicals known to cause cancer, which means that Monsanto must now add a warning label to its glyphosate-based products to alert consumers to cancer risks. However, as The Scientist notes, the Environmental Protection Agency (EPA) considers glyphosate to be safe if used in accordance with its labeling.
Plaintiff Claimed that Monsanto Failed to Warn of Cancer Risks
Johnson – married and a father of three children – worked as groundskeeper and pest control manager for a San Francisco Bay area school district. The AP reports that his job required him to spray large volumes of Monsanto's Roundup and Ranger Pro weed killers from a 50-gallon truck. Due to wind, the weed killer would sometimes splash on his face and body. Once, when a hose broke, he was soaked in the product.
After Johnson developed a rash, he called Monsanto, but he said the company did not tell him of any cancer risks, according to the AP. In 2014, the man was diagnosed with non-Hodgkin's lymphoma, which arises when the body produces too many abnormal white blood cells, or lymphocytes. Due to his condition, he may have only months to live, according to The Guardian. His wife has been working two jobs to help the family to cover the man's medical bills.
Monsanto Knew About The Cancer Risks Associated With Glyphosate-based Weed Killers
During the month-long trial, Johnson argued that Monsanto knew for decades about the cancer risks associated with its glyphosate-based weed killers but failed to warn consumers about those risks. In addition to presenting evidence from the IARC, his legal team produced internal e-mails from Monsanto executives. Those e-mails showed how the company ignored experts' warnings about glyphosate and sought favorable scientific opinions about the safety of the herbicide – even going so far as to "ghostwrite" research about it, The Guardian reports.
According to The Guardian, Monsanto has long claimed that Roundup is a safe product, and it has denied that the product has any link to cancer. During the trial, the company presented research which challenged the expert research and testimony that Johnson presented. Additionally, Monsanto challenged the IARC's classification of glyphosate and claimed that its executives' internal e-mails were "taken completely out of context."
The jury disagreed and returned the $289 million verdict after three days of deliberation, according to the AP. Monsanto has indicated that it will appeal the case.
Our Virginia Product Liability Attorneys Are Ready to Help You
If you have been harmed by an unsafe product, you owe it to yourself to have a clear understanding of your legal options. At Marks & Harrison, our attorneys are fully committed to holding accountable chemical companies that put profits ahead of public health and safety. Our attorneys will carefully review your medical records and evaluate the harm you have suffered and whether you have a valid Roundup cancer claim.
Consumers in Richmond and throughout Virginia can count Marks & Harrison to provide trusted legal guidance and protect their rights against manufacturers that sell dangerous products and fail to warn adequately of their risks. Call us or use our online contact form to discuss your case today in a free consultation.