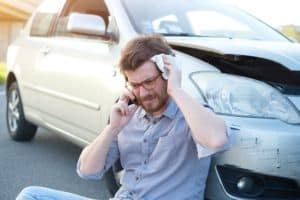 If you have been involved in a car accident and suffered injuries or other damages, one of the first things that you need to do in order to protect your right to compensation is to report the accident to your insurance company.  If another party's negligence caused your crash, then that party's liability insurance should cover your bodily injury and property damages. However, depending on the facts of your case, you may also need to file a claim with your own insurer such as a collision, uninsured motorist or underinsured motorist claim.
At Marks & Harrison, we can handle all aspects of your case from start to finish, including helping you to report your accident to your auto insurance provider. For more than 100 years, our law firm has been dedicated to protecting the rights injury victims throughout Virginia. To discuss the specific facts of your case, call or reach us online today and receive a free consultation.
Collecting Information at the Scene
In order to provide your insurance company with as much information as possible, including a copy of the police report, it is critical that you call the police while you are still at the accident scene. If you do not call the police, you should make sure to file an accident report. Additionally, you should try to collect important information and evidence at the scene, including:
The other driver's name, contact information, driver's license number, insurance information, vehicle registration information and the vehicle make, model and license plate number
Eyewitnesses' contact information and a brief description of what they saw
Photos of the accident, including debris, skid marks and damage to the interior and exterior of vehicles
Police officers' names and badge numbers.
The more information that you can collect at the accident scene, the more prepared you will be when you contact your insurance company.
When You Should Contact Your Insurance Company
You should obtain a copy of your accident report as soon as possible. You can go through the police agency that responded to your crash or through the Virginia Department of Motor Vehicles. Then, contact your insurance company without delay. If you wait too long to notify your insurer of the accident, the insurer may try to use your lack of notice as a reason to deny your claim. The best thing to do is to notify your insurer within 24 to 48 hours of the accident – if not within a few hours of its occurrence.
Describing the Accident
When you contact your insurance company about your crash, you can expect the company to ask you for a copy of the accident report and/or a description of the accident. A claims adjuster may also ask you for a description of your injuries as well as any other information that you have. It is important that, during any interactions with an insurance adjuster, you follow this list of "Dos" and "Don'ts."
DO
Remain honest and as accurate as possible.
Provide basic information such as your name, when and where the accident happened and who was involved.
Remain polite and professional. Rudeness or emotion won't get you far.
DON'T
Sign anything without having it reviewed by an attorney first.
Make any admission of fault, including saying something as seemingly insignificant as, "I'm sorry."
Give a recorded statement without consulting with a lawyer first.
Hyperbolize what happened or exaggerate the extent of your injuries.
Even though an insurance adjuster may seem to be friendly and helpful, the adjuster's job will be to find ways to diminish the value of your claim. So, anything you say, the adjuster can and likely will try to use against you in order to achieve that goal.
Get Medical Treatment
If you have not already done so at this point in time, you should get medical treatment. (Ideally, you will do this within 24 hours of your accident. Waiting too long to get medical treatment can create questions about the causation of your injuries.) In order to pursue the maximum settlement for your injuries, you should document all medical treatment and expenses. Also, you should follow your doctor's orders. If you fail to follow your doctor's orders, and later on you file a claim with your insurance company, the insurer may attempt to reduce the value of your claim by stating that you did not do your due diligence to mitigate damages.
Get Your Vehicle Assessed for Damage
If you file a collision claim with your own insurance company, you will need to have your vehicle assessed. A professional can conduct this assessment, determine the value of damage to your vehicle and suggest a course of action – repair or replacement. Insurance companies typically have rules in place for vehicle assessment. So, ask your insurance agent if you are free to get an independent vehicle assessment.
Our Virginia Car Accident Attorneys Are Here to Help You
If you have been injured in an automobile accident, the claims process with the insurance company can become complex very quickly.  This is true whether you are working with your own insurance company or another driver's insurance company. The insurance company will often attempt to resolve the claim as quickly as possible, even before you know the full extent of your injuries and other losses by making quick settlement offers and requesting that you sign off on numerous different documents regarding your claim. Before you agree to anything, it is important that you receive qualified advice about your best course of action.
If you have been in a car crash, and your losses are significant, working with a car accident attorney can prove helpful. Your attorney from Marks & Harrison will represent you in all interactions with insurance companies, and your attorney will advise you regarding your rights and options. Of course, a skilled attorney can also pursue a settlement and, if necessary, take your case to trial.At Marks & Harrison, our Virginia car accident lawyers realize that being involved in a car crash can change your life. We are here to advocate for you and protect your best interests. To schedule a free consultation with our law firm through one of our 10 offices located throughout Virginia, contact us today.