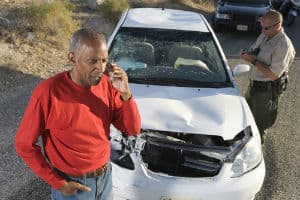 You're involved in a wreck, and it was not your fault.  Whether the other driver rear-ended you, turned in front of you or side-swiped you, the police officer didn't write the at-fault driver a ticket.  Because of that, you may think that you don't have a claim.  Don't worry – if the wreck was not your fault, then the fact that the officer did not give the at-fault driver a ticket does not prevent you from pursuing a claim.
So why didn't the officer give the at-fault driver a ticket?  The answer is because officers have the discretion to issue a traffic charge or not; that is, the officer is not required to write a ticket.  In some instances officers don't write tickets because they can't determine who was at fault, but that is rare.  Another reason may be that the wreck happened on private property. The bottom line is: it does not matter that the officer did not write the other person a ticket as long as the wreck was not your fault.
If you are involved in this type of situation, you should take the following steps to help your claim:
Take pictures of the scene and damage to both vehicles
Exchange contact information with any witnesses
Do not discuss the accident with other drivers or witnesses
Obtain medical treatment as soon as you need it
Write down all of the facts surrounding the accident as soon as possible
Call your insurance agent immediately and report the accident
DO NOT talk with anyone who calls you from the other driver's insurance company
Call an attorney to learn about your rights and obligations.
It is always a good idea to contact an attorney. At Marks & Harrison, we will thoroughly investigate your accident, and we know who to hire to go up against high-powered teams of attorneys working for insurance companies. We work with forensic engineers to establish the cause of the accident and to prove the other driver's responsibility.
Contact us today by calling toll free at 1-800-283-2202. Our phones are answered 24 hours a day, 7 days a week. You can also submit a Case Evaluation online here.